House of thieves: Speaker John Bercow claimed £130 for 0.8 mile car journey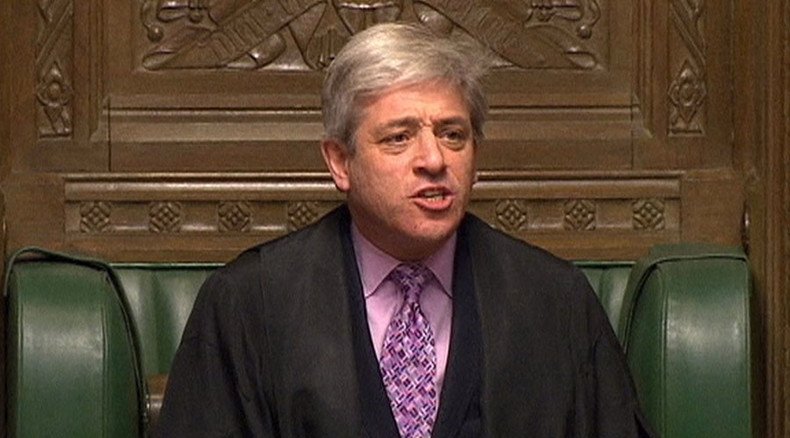 Speaker of the House of Commons John Bercow has defended his taxpayer funded parliamentary expenses from the past year after claiming travel and accommodation costs of £31,400.
Bercow's expenses include a £127.72 claim for a "wait and return" car journey from Parliament to a state banquet at Buckingham Palace, which is less than a mile away.

In an ironic twist, he claimed £367 on a car to Luton where he delivered a speech about how MPs were restoring their reputation following the 2009 expenses scandal.
He also claimed £13,000 for a seven-day trip to Australia with an aide.

The figures were released through a Freedom of Information request made by the Press Association.
John Bercow, get the train like the rest of us. Don't take a cab across the country and charge it to the taxpayer.

— Sam (@dog___bone) July 24, 2015
A spokesman for Bercow said the Speaker is "always mindful" of the costs incurred by his office.

But the TaxPayers' Alliance campaign have described the claims as "obscene."

Taxpayers Alliance director Andy Silverster said: "This is an obscene waste of money and shows appalling judgment from whoever made the arrangements.

"Hugely expensive chauffeur-driven travel and costly meals abroad don't look good when this Speaker was elected specifically to improve the reputation of parliament in light of the expenses scandal.

"It is impossible to comprehend how some of these bills have spiralled to such a degree and questions must be asked. This money doesn't grow on trees, it comes straight out of taxpayers' pockets, and it must be treated with more respect."
I walked from the Royal Society to Downing Street - 12 mins thinking time. The loathsome John Bercow spent £172 of taxpayers money on a car.

— Robin (@TheProfRobin) July 24, 2015
Between April 2014 and April 2015, Bercow claimed more than £31,400 in travel and accommodation expenses.

Almost half of this was for an official trip to Australia in September 2014 where he addressed the country's Parliament.

The speaker's penchant for chauffeur driven car rides is evident from the numerous receipts for journeys that could also be made by train or bus.

Bercow submitted a claim worth £138 for a 10 mile return drive from the Commons to Battersea in London, where he and an aide attended an Education Outreach event on September 11 last year.
The Speaker also claimed £524 for an official car to travel to Canterbury to see Archbishop Justin Welby enthroned in March 2013.

A spokesman for Bercow said the use of a private car is necessary to "facilitate timing requirements."

He said: "The Speaker is committed to encouraging public engagement with parliament and regularly visits universities, charities and other organizations around the UK to explain the work of the House of Commons.

"The Speaker is always mindful of costs, and travels standard class in the UK and when away from home, stays in hotels that offer value for money.

"In some instances a car service is required to facilitate timing requirements. In line with the Speaker's commitment to greater transparency details of these costs have been published on a quarterly basis since 2013."
You can share this story on social media: