Machete, knife cache uncovered in London as bladed weapon crimes rise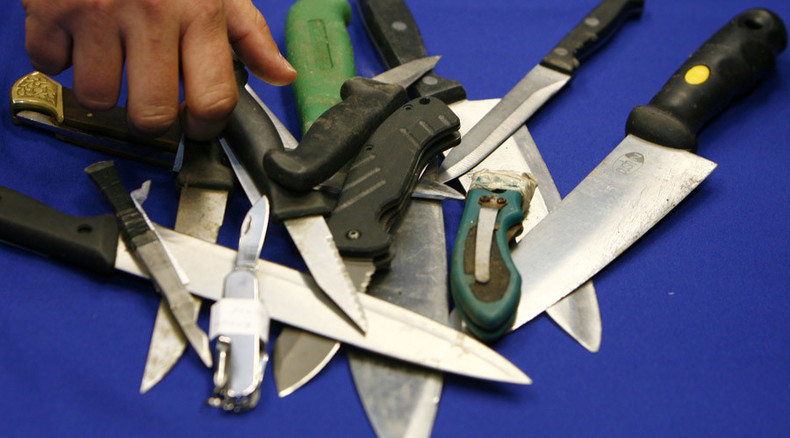 Machetes, knives and batons were found at two London addresses just a month after the Office for National Statistics warned of a rise in the number of crimes involving bladed weapons.
The weapons were found after raids at two addresses in north and northwest London led police to a cache of 62 potentially deadly weapons in a vehicle in NW10.
The recent rise is the first in four years. The raid came as separate figures reported there were 1,600 cases of youths being stabbed in London in the year leading up to May 2015.
After the knives were located, a 39-year-old male was detained and remains in custody in West London.
Detective Chief Superintendent Dean Haydon, Head of Trident Gang Crime Command, told the International Business Times "tackling knife crime is a key priority for the Met."
"Every week, officers from across London carry out enforcement activity, and educational programs aimed at prevention are regularly delivered to young people," he said.
He said Londoners can expect to see a range of intelligence-led, coordinated operations to address the issue in coming months.
"We will be carrying out a variety of operations including weapon sweeps and stop and search; as well as targeting known offenders," Haydon said.
Haydon said it was a tragedy that most of those who fall victim to knife crime are under the age of 18.
"That is why it is so important to reach out to young people and try to educate them to make them realize the very real consequences of carrying knives."
"Carrying a knife leads to using a knife and there is every chance that the knife you may use could actually be used on you," he said.
He also pointed to the Met's initiatives to get knives off the streets, which are "delivered to thousands of young people, aimed at discouraging them from getting involved in gangs and knife crime."