EU reforms won't be ratified in time for Brexit referendum, Cameron told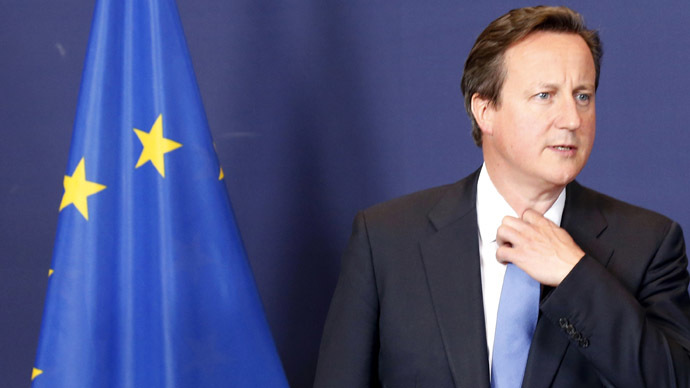 Ministers have accused Prime Minister David Cameron of committing to a renegotiation of the UK's relationship with Europe that will remain unratified when a referendum on EU membership takes place.
Cameron met with other European leaders at the European Council summit in Brussels on Thursday and declared he was "delighted" with the initial negotiations to a new agreement which will pave the way for an in/out referendum before 2017.
At the conference Cameron secured six months of "technical" talks between UK and EU officials to try and secure restrictions on welfare for EU migrants, an opt-out from the EU goal of "ever-closer union" and greater powers for the UK's national parliament.
European Council President Donald Tusk said other European leaders would see the results of the talks in December, but cautioned Cameron about pushing the boundaries of renegotiation.
READ MORE: 'Hatred and lies': European Parliament president slams 'toxic' UK debate on Europe
"One thing should be clear from the very beginning. The fundamental values of the EU are not for sale and so are non-negotiable. We should consider British concerns, but only in a way which will be safe for all Europe."
Despite Cameron's optimism, British ministers believe any potential changes will not have time to be properly ratified by an amendment to the Lisbon Treaty before a referendum takes place.
UKIP leader Nigel Farage likened the negotiations to a "post-dated check."
"There are so many big fundamental things happening that a promissory note of some kind to Britain may well finish up not being honored. Post-dated checks can bounce and one suspects that any post-dated check that was given to the Brits would be given by presidents and prime ministers in office now," he said.
READ MORE: EU referendum: Cameron to face stiff SNP opposition to bill
"By the time it came to be honored there would be different prime ministers and different presidents who have been elected on a ticket saying we won't honor this note anyway. It doesn't work on any way you look at it," he added.
One senior UK official, however, said the changed would remain "legally binding and irreversible" despite the revised Lisbon Treaty, which has to be signed by all 27 member states, not likely to be complete by the time the UK holds a referendum.
"There will be political agreement [of] 27 that these changes will be done. Then there is a process of ratification of those which can take a long time because it needs to be ratified in all 27 countries.
"So there will be a process that will need to bring the changes to the treaties into force. But are we absolutely clear that the reforms we are seeking will require treaty change and will need agreement on that treaty change before the referendum? Yes, we absolutely are," they said.