'Why don't you f*ck off and die?' Boris Johnson caught on film berating London cab driver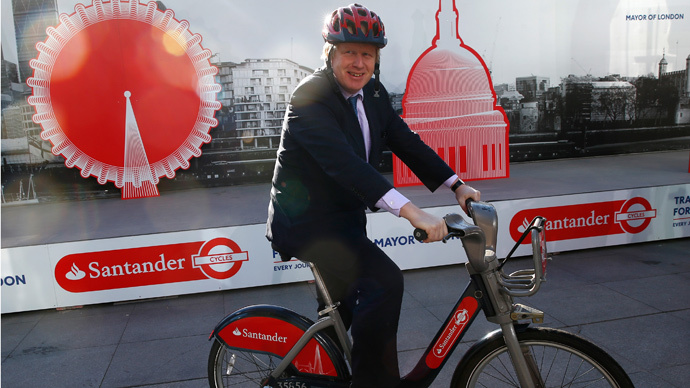 London's outspoken Conservative mayor, Boris Johnson, has been caught on camera delivering a filthy tirade of abuse at a black cab driver.
The Eton- and Oxford-educated Johnson was spotted by a pedestrian in an altercation with the driver, who shouted at Johnson: "You're one of them, mate. That's what you are. One of them."
READ MORE: 'If I'm London mayor, Max Keiser will be economic advisor' – George Galloway
In the video, obtained by the Daily Mail and the Sun, Johnson can be heard replying: "Why don't you f*ck off and die? Why don't you f*ck off and die? And not in that order."
The cabbie responds: "Yeah, b*llocks. I hope you die."
The spat appears to be part of an ongoing conflict between Johnson and black cab drivers, who believe Transport for London has undermined their trade by allowing Uber drivers to cut costs and use unlicensed drivers.
The footage shows Johnson clad in a bright yellow cycling helmet and a charcoal suit. He was reportedly on his way home from a dinner when the confrontation occurred on St John's Road in Islington.
A source close to the mayor accused the cabbie in question of being a "serial heckler."
READ MORE:'Gay, dyslexic activist' enters race for London mayor
"Boris has dozens of chance conversations with Londoners every week. Many are productive and friendly, some are colorful. I know most end happily. I believe this particular cabbie, however, is a serial heckler," the source said.
Drivers of traditional black cabs claim Uber does not pay taxes and uses unlicensed drivers who lack proper knowledge of the city. They say the Uber drivers rely on satnavs, whereas the traditional cabbies provide a superior service based on years of experience.
Black cabbies also say Uber's strategy is to undercut the price of traditional services, then increase their prices once they have destroyed the trade and monopolized the market.
Licensed Taxi Drivers Association spokesman Steve McNamara said: "The taxi drivers in London are rightly worried about the way that private firms are operating."
"I can understand why the driver had a pop at Boris, and to be fair to him, he gave back as good as he got."