'It was like a playground in there': Nigel Farage's adviser slams UKIP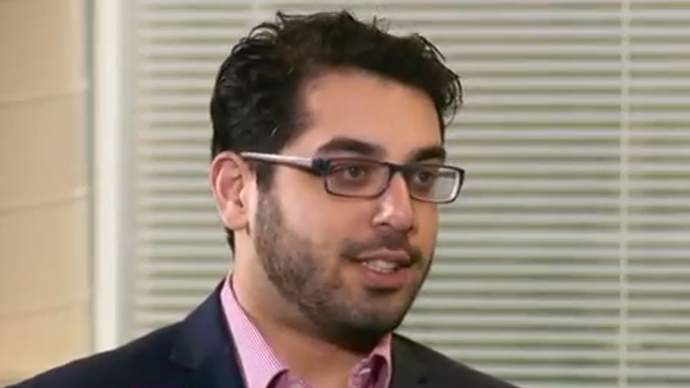 UKIP's election office was fraught with disorganization which was "too embarrassing to be seen," according to Nigel Farage's top campaign adviser.
Raheem Kassam, who was considered to be in the party leader's inner-most circle of trust before the poor election result forced him to step down, said the party was a "mess because there's no discipline" and was close to broke after using nearly all its funds on the unsuccessful campaign.
Kassam also said he had predicted the coup mounted by Douglas Carswell MP and other senior party members against Farage following his controversial 'un-resigning.'
"Someone needs to go in there with a big stick. It needs root-and-branch reform. The constitution is outdated, the national executive is outdated. The funding streams are all wrong. The website is all wrong. It needs a massive, massive overhaul," Kassam told the Guardian.
He spoke of how the faction made up of Carswell and Patrick O'Flynn was based on envy for his close position to the leader.
"Egos got in the way at every point," he said. "Who do you think Nigel would call? It was always me. They absolutely hated that. But the truth of it was that we were always mopping up everyone's messes."
He added that even in the run-up to polling day he could see the "plot" forming.
READ MORE: Nation of Ooog: How a bizarre fringe party helped bring about Nigel Farage's downfall
"I predicted everything that would happen – the Suzanne stuff, the Carswell stuff, the Patrick stuff – nobody listened to me."
"[It] earned me a lot of credit with Nigel that I foresaw that."
UKIP suffered a number of widely reported resignations during the campaign after candidates made controversial and, on occasions, offensive comments.
Kassam said the UKIP headquarters was "like a playground."
"It was like a playground in there ... It got to the point where journalists would come into HQ and we'd have to lock certain doors because the people behind those doors were too embarrassing to be seen."
He added that the whole manifesto was "a clusterf**k."
The former adviser has since returned to work at the right-wing website Breitbart, which has recently signed up Farage as a lead columnist.
A UKIP spokesperson suggested Kassam may be "out of touch with the reality" of the party, having spent much of the time since his resignation out of the country.
"Mr Farage has made clear time and time again that he sees himself as 'a' – not 'the' – leader of the out campaign, and is calling for a broad, inclusive campaign, which is cross-party, and no party.
"On the question of party finances, of course the party's coffers are a little bare: we have just fought an election campaign. This is the same for all parties. Many members of staff were working on 'election contracts,' including Mr Kassam, and were not expected to, nor expected themselves to continue working for the party after the election. This in turn means that we no longer need the same size office. So much is normal.
"Mr Kassam is not privy to the financial situation of the party now, nor was he before. As to the other comments, he is entitled to his own views, of course, but they are not views shared by the party," they added.