​Oxford Union brands itself 'institutionally racist' after 'Colonial Comeback' cocktail row
Published time: 2 Jun, 2015 16:25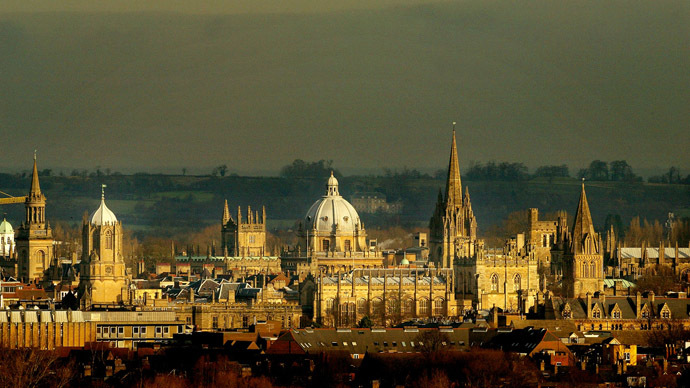 The Oxford Union has admitted to being "institutionally racist" after causing outrage for advertising a 'Colonial Comeback' cocktail on a debate event poster featuring an image of black hands in chains.
The "outrageous" poster received fierce criticism after it was shared on social media last Thursday.
The "Colonial Comeback" cocktail was served at an event organized by Oxford University's debating society. Flyers to promote the beverage were posted around the venue.
Oxford Union have made a RACIST COLONIAL COCKTAILS for the Reperations debate #rhodesmustfalloxfordpic.twitter.com/YxFqFqACUS

— NativeSon (@adamec87) May 28, 2015
The ad, which sparked fury among students and many online, caused the union's diversity officer, Esther Odejimi, to resign.
When she left her role last week she said the poster proved "racism is definitely not dead."
Odejimi says it was clear her role as the Black, Asian and Ethnic Minority Officer "was an act of political correctness."
She said the Union had "no intention to actually engage with the BME rep position."
The university, which counts Tony Blair and Boris Johnson among its alumni, apologized for the controversy its union had caused.
The incident was discussed at a union committee meeting on Monday where it was revealed the "racist" concept beverage was proposed by union treasurer Zuleyaka Shahin.
Shanin admitted the "Oxford Union society is institutionally racist."
READ MORE: 'Racist' Oxford Union cocktail advert sparks race row
A former committee member who did not wish to be named told the Independent: "Several motions were passed including one declaring the union institutionally racist. It was very acrimonious."
A spokesperson for Oxford University, which has no control over the union, said there is "no place at Oxford for the kind of crass and insensitive attitude that the material produced by Oxford Union suggests."
"While we are confident that it in no way represents the vast majority of Oxford students, racially insensitive comments or behavior of this or any kind are unacceptable at Oxford and its colleges," they added.
The almost 200-year-old union, which claims to be the most popular debate society in the world, says it is "the last bastion of free speech."
Its previous guest speakers include Marine Le Pen, Pamela Anderson and Ronald Reagan.