​Fat, unfit cops must shape up or leave force, Metropolitan Police chief says
Published time: 2 Jun, 2015 10:16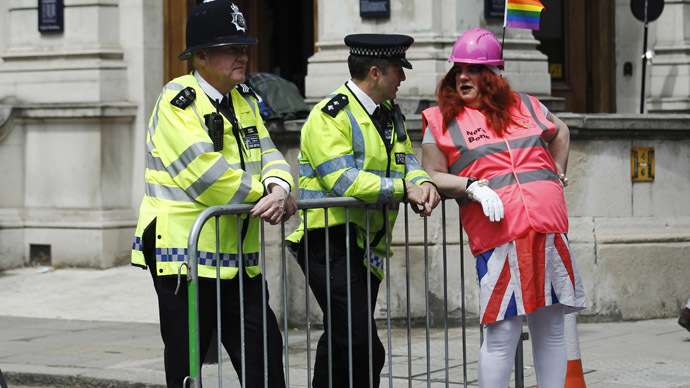 Unfit and overweight police officers must improve their health and physique or "we haven't got a job for them," Britain's top police chief has warned.
Sir Bernard Hogan-Howe said officers' annual fitness tests featured standards that were much too low.
The Metropolitan Police Commissioner said he passed his physical assessment very well with no preparation.
He added that police officers need fit colleagues, not "somebody waddling down the road who's never going to arrive."
Hogan-Howe has led London's Metropolitan Police Authority, the largest force in Britain, since 2011.
In an interview with the Radio Times, he said police officers who failed the fitness test must improve their physical condition or risk losing their jobs.
"If they don't, then we haven't got a job for them. I think you've got a duty to your colleagues," Hogan-Howe said.
READ MORE: Police failing children forced into 'Oliver Twist' street crime, says anti-slavery charity
READ MORE: Police can keep offenders' DNA indefinitely, Supreme Court rules
READ MORE: Over 3,000 UK policemen investigated for alleged assault, 98% remain on duty – report
"If they shout for help, they want fit people to come. They don't want somebody waddling down the road who's never going to arrive, and when they get there they're out of breath," he added.
The mandatory annual fitness test came into force in England and Wales in 2014, following a policing review by Chief Inspector of Constabulary Tom Winsor.
Known as the "bleep" test, it involves running a short distance back and forth in time to a bleeping sound.
As the level goes up, the frequency of the bleep becomes faster. Police officers must try to complete as many levels as they can, running faster with each progression.
According to interim results given to the College of Policing, out of 29,285 tests taken, 807 officers failed.
The 807 figure could include officers who failed more than once. Men failed 237 tests and women failed 570.
Winsor has recommended the test be changed in 2018 to resemble that undertaken by police recruits in Northern Ireland, where they have to do push-and-pull exercises to test strength, plus crawling, jumping, climbing and running laps.
Hogan-Howe said he had personally passed his own assessment "very well with no preparation."
However, he added: "It's taken too long to get the annual test, but it will start to have an increasing impact. For me, the standard is too low: I think it should be higher. It's relatively easy to pass."
Chairman of the Met Police Federation John Tully said while he accepted officers need to maintain fitness, because of budget cuts frontline officers had no time to keep fit while on the job.
He said the police force had a duty of care to remember because some officers failed the test due to illness or an injury they received on duty.
"There is no differentiation between someone injured playing football in their own time or injured on duty," Mr Tully said.
"Clearly the commissioner is laying a line down from what he has said, but it would be a sad day seeing people leave the organization if that happens," he added.