UK has largest literacy gap between employed & unemployed in Western world – figures
Published time: 27 May, 2015 14:54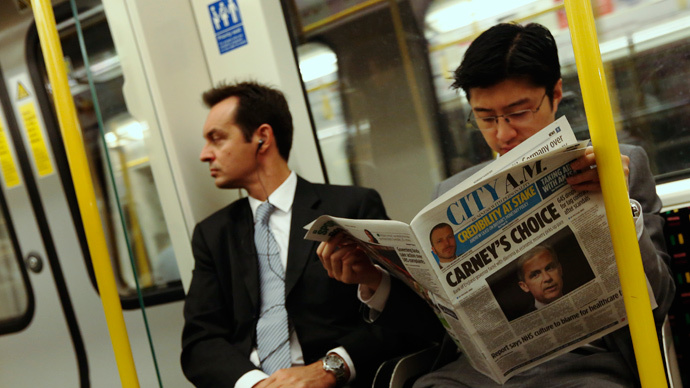 The UK has the greatest disparity of any Western country between the literacy of those with jobs and those who are either unemployed or not in education, new figures show.
Results of a survey, published by the Organization for Economic Co-operation and Development (OECD) found that those not in education, employment or training (NEETs) fell behind their working counterparts by 12.5 percent.
The OECD also found that NEETs' problem solving abilities lagged behind the employed by nearly 10 percent. Some 56 percent of those out of work were also recorded as not searching for employment.
The survey collated results from 35 million 16 to 29 year olds in 22 Western countries.
It said NEETs were "under the radar" and warned they could continue to evade the attention of authorities, adding they were "far from the labor market not only due to their low skills but also because they are not looking for a job.
"One in four NEETs has been unemployed for more than six months and faces risks of skills erosion," it said. "Amongst the NEETs, a relatively high share (56 percent) is inactive and not looking for a job."
READ MORE: Delayed transgender treatments causing self-harm, suicide – UK watchdog
The UK was also one of a number of Western countries which had a larger percentage of young people than "prime adults" – those in their 30s and 40s – with poor literacy skills
"Overall, young workers are almost three times more likely than prime-age workers to be unemployed. One in seven young people aged 16 to 24 leave school before completing upper secondary education – which is a much higher probability than on average in OECD countries," the OECD wrote.
"Young migrants, too, are considerably over-represented in the category of low performers compared to the average native-born," they added.
Graduates were also found to have low literacy and numeracy skills.
"The share of new graduates with low numeracy skills is the second highest after the US," it said.
A spokesman for the Department for Education said: "Following years of stagnation in international league tables, this government's relentless focus on standards is ensuring that thousands more young people are able to read, write and add up properly.
"But there is no room for complacency. We will continue to build on this success by ensuring all young people leave school with the knowledge and skills they need to compete with their peers from across the globe."
A spokesman for the Department for Business, Innovation and Skills added: "Current employer surveys indicate very high satisfaction with the skills of UK graduates. However, more can always be done and higher education institutions play a role in addressing any underperformance in maths."