​'No, well, yes': Parliament would be empty if lying politicians were sacked, says ex-minister
Published time: 26 May, 2015 15:14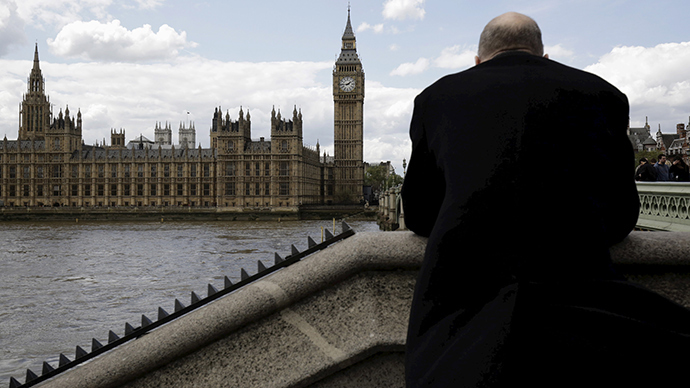 A former senior minister says the House of Commons would be empty if every politician who lied was ejected. Prime Minister David Cameron is facing backbench friction over his plans to cut the number of MPs.
Sir Malcolm Bruce, who stepped down this month, was defending his beleaguered Liberal Democrat colleague Alistair Carmichael.
READ MORE: From hung parliament to constitutional coup? Clamor grows for radical UK electoral reform
Carmichael is facing calls to resign, as well as a potential investigation into his role in the leaking of a confidential memo in an alleged attempt to discredit Scottish National Party (SNP) leader Nicola Sturgeon during the general election.
Asked on BBC radio whether lying was commonplace in politics, Bruce said: "No, well, yes. Lots of people have told lies and you know perfectly well that to be true.
"If you are suggesting every MP who has never quite told the truth or even told a brazen lie, including cabinet ministers, including prime ministers, we would clear out the House of Commons very fast, I would suggest."
He went on to argue that while Carmichael had "misconducted" himself, the record of the last remaining Liberal Democrat MP in Scotland was "first class."
His comments come as David Cameron faces a row over his pledge to carry out reforms, which could thin out the Commons if enacted.
The Tory manifesto promised to have the number of MPs cut by 50 down to 600, as well as carrying out a remodeling of constituency boundaries.
READ MORE: Try, try and try again? Sturgeon hints at another Scottish independence vote
However, the move, which some Tories claim would be "bizarre" not to implement, is being contested by some within the party.
Speaking to the Times, Philip Davies MP said he would only vote for a reduction if there was a corresponding cut to the number of ministers.
"If they do the equalization of the seats and it's 650, I will more than likely vote for it.
"If it's 600, I won't."
Other MP's, including some whose seats could be at risk if the reforms came into effect, responded positively to the proposal, which has been partially framed as a cost-saving measure.
Andrew Bridgen MP told the Times: "I think it's right at a time of continued austerity that parliament makes its contribution by reducing the number of MPs by 50 and making a corresponding reduction in the number of staff and offices."