'Working people worse off since 2010': Report leaves Tories 'exposed,' says Labour
Published time: 4 Mar, 2015 17:04
Edited time: 4 Mar, 2015 17:21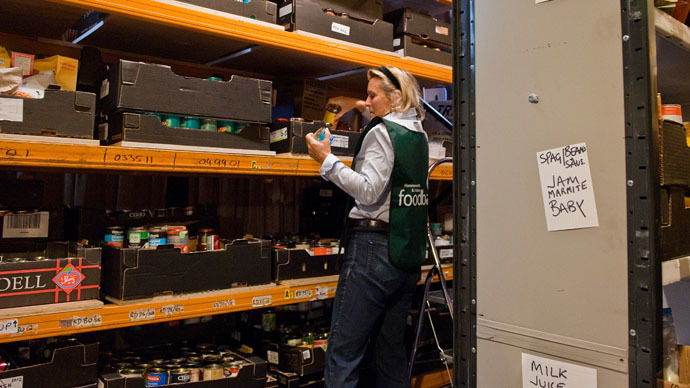 In a blow to Prime Minister David Cameron's economic record, a think-tank has reported that UK living standards are now lower than before the 2010 general election, when his Conservative-led coalition came to power.
The Institute for Fiscal Studies (IFS) has projected that median household income is at pre-crisis levels, and that recovery from the 2008 crisis has been significantly slower than from recessions in the eighties and nineties.
The report attributed slow growth to tax rises for high earners, swingeing welfare cuts and weak wage growth.
IFS Research Economist Andrew Hood, who authored the report, was quoted in the Institutes' press statement as saying: "After large falls, and a historically slow recovery, average household income is now back to around its pre-crisis level."
He added the recovery has had varying demographic impacts. "The young have done much worse than the old, those on higher incomes somewhat worse than those on lower incomes, and those with children better than those without."
READ MORE: 'Lost decade': UK workers face real wages drop until 2017
IFS Economist and co-author Robert Hood said: "The key reason living standards have recovered so slowly has been weak earnings growth. In the long run, policies that boost productivity, and so increase real earnings, are likely to have a bigger impact on living standards than changes in tax and benefit rates."
The report stops short of assigning blame to a particular political party, instead arguing: "It is almost certain that incomes would have fallen significantly under any government. It would therefore be misleading to attribute all trends in living standards before May 2010 to Labour, and all trends since then to the coalition."
With the May 7 general election approaching, both Labour and Conservative figures have been quick to interpret the findings to support their own positions at a time when opinion polls are even.
READ MORE: Millions of Brits stuck in low wage jobs despite economic recovery
Chancellor George Osborne told Reuters: "Britain is fundamentally in a better position than it was five years ago."
Labour Shadow Financial Secretary to the Treasury Cathie Jamieson took a contrary view.
"This report confirms that working people are worse off since 2010. This is set to be the first time since the 1920s that people are worse off at the end of a Parliament than at the start," she said.
In a statement released on Wednesday, Shadow Chancellor Ed Balls said coalition policies had hit some of the most vulnerable in society.
"It is hard to think of any government in the history of our welfare state that has hit children and poor families so heavily and so fast," he said.
Labour leader Ed Milliband told Sky news: "There are choices you can make and I'm afraid they made the wrong choices and that's what's been exposed today."