British plane spotters arrested in UAE on 'national security' offense
Published time: 3 Mar, 2015 14:34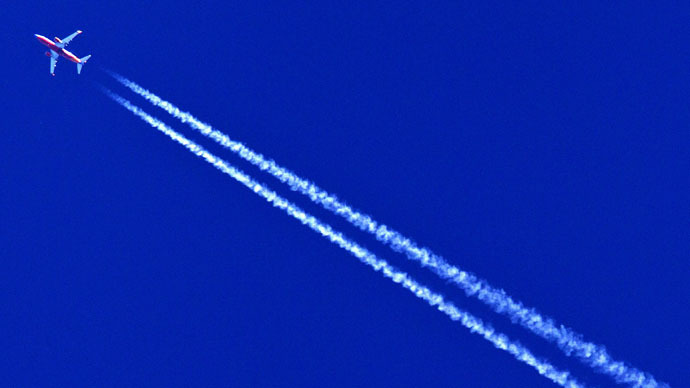 Three British plane-spotting hobbyists have been arrested in Dubai due to "national security" concerns as they took notes on aircraft. They have been held in custody for 10 days.
Conrad Clitheroe, 53, his friend Gary Cooper, 45, and their former work colleague, expat Neil Munro, have been detained since February 21, according to Clitheroe's wife Valerie.
The three men were allegedly taking photographs and notes, using a telescope near Fujairah Airport, about 80 miles from Dubai.
They were stopped by an off-duty policeman and accused of committing a "national security offence." They are now reportedly being held at Fujairah prison.
Valerie said: "We were just totally shocked when we heard and couldn't believe it was true.
"He's really choked up every time I've spoken to him. They're trying to help each other but it's difficult not knowing.
"They would never do anything that would risk national security. They weren't taking pictures. They didn't realize plane spotting was such an issue."
Conrad Clitheroe was due to fly home on February 22 following a four-day trip.
The charity Detained in Dubai is now seeking the release of the three men.
The charity's founder Radha Stirling said:"All three friends have a shared hobby of plane spotting and were keen to see Fujairah airport, where many older and rarer aircrafts can be seen. The practice is legal in the UAE though not widely understood, nor appreciated by authorities."
She said police had initially told the men they were "not in big trouble" and that they would make their flight, scheduled for the following morning.
However, they were then told "they would be allowed to leave once they had signed a declaration stating that they would never come and plane spot again."
READ MORE: 3 women risk torture in secret UAE detention over 'I miss my brother' tweet – Amnesty
Once they signed the document in Arabic, which they didn't understand, they were put in detention – much to their surprise.
"In this prison context especially, we are very concerned about their health and safety," the group said. "The prisons are known for severe overcrowding, and even human right violations, lashings and torture.
"The men have been in the same clothes and only given a bar of soap after 5 days. They reportedly had their blankets stolen by other inmates."
The Foreign Office said it's providing consular assistance.
This is not the first time British plane spotters have had run-ins with law enforcement over their hobby.
In 2010, two men were arrested in India after asking for a hotel room overlooking a civilian runway. In 2001, 14 British and Dutch spotters were arrested in Greece for taking photos at an air show and held on spying charges in a lengthy court case.