UK election debate: UKIP, Greens, SNP & Plaid Cymru earn broadcast rights
Published time: 23 Feb, 2015 16:27
Edited time: 23 Feb, 2015 16:27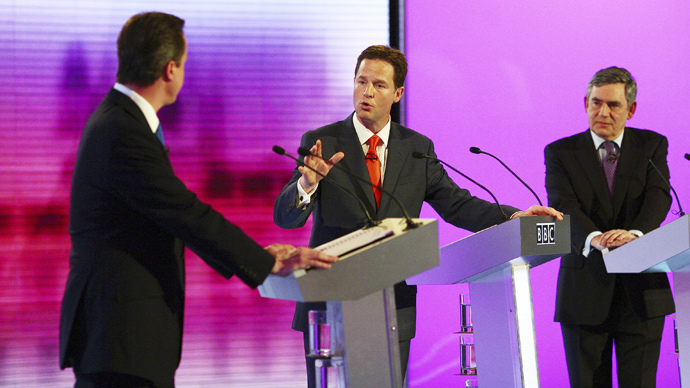 Prime Minister David Cameron and Labour Party leader Ed Miliband are set to face each other head-to-head in a televised debate in late April, as broadcasters release their pre-election schedules.
Broadcasters vying for the opportunity to broadcast the final two-man debate drew lots, with Sky News and Channel 4 emerging victorious.
The BBC and ITV will host debates featuring a larger selection of parties, including the Conservatives, Labour, the Liberal Democrats, the Green Party, the UK Independence Party (UKIP), the Scottish National Party (SNP) and the Welsh nationalist party Plaid Cymru, which will happen earlier in the month.
The revised debate format was proposed following disputes between party leaders, after the original plans only included the Conservatives, Labour, the Liberal Democrats and UKIP.
ITV's will be broadcast on April 2 and the BBC's on April 16.
The new format includes many more minor parties than 2010 after an online petition calling for the inclusion of the Greens garnered huge support.
David Cameron also refused to take part in the debates unless more minor party leaders were included. Critics at the time, however, claimed the PM was acting in self-interest.
READ MORE:'What are you afraid of, boys?' Greens poster demands inclusion in TV debates
Cameron has yet to confirm whether he will be present at any of the debates, but broadcasters insist they will go ahead regardless.
Douglas Alexander, Labour's election strategy chief, has reportedly written to Conservative Party Chairman Grant Shapps requesting confirmation of Cameron's attendance at the debates.
"Failure to answer this question will lead many to conclude that you and Mr Cameron are reluctant to give the British people the chance to make up their own minds," he wrote.
Cameron had refused to take part unless "all national parties" were represented – prompting a political row and a rethink from the broadcasters.
He claimed it was unfair to give UKIP a voice in the debates without including the Greens.
He further said he didn't think "the current proposals work," adding "you can't have one minor party without having another minor party and I think that's only fair."
The Telegraph, however, reported talks between the parties had broken down, with the Conservatives attempting to introduce difficult measures.
The final debate between Miliband and Cameron will take place on April 30, a week before polling day on May 7.