​Price of bread rises 11,000% in a century – and will be £150 by 2114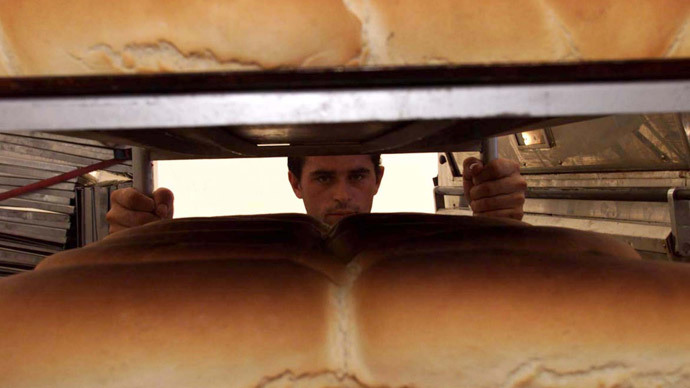 A loaf of bread in the UK will cost £150 in 100 years if current inflation rates apply, a study has shown. The value of money has plummeted by 99 percent over the past century, meaning £100 in 1914 is equivalent to £8,970 in purchasing power terms today.
A loaf of bread cost £0.01 a century ago, compared to today's average of £1.35, according to a Lloyds Private Banking study.
A pink of milk also cost £0.01, while a dozen eggs would have set you back about £0.08.
Perhaps the most shocking revelation in the research concerns the price of beer.
At the eve of World War I, a pint of beer cost a mere £0.01 – roughly the same as a loaf of white bread.
The price of beer has increased 29,300 percent since 1914, reaching an average price of £2.94 in 2014.
According to the research, prices doubled during WWI, but prolonged deflation during the Great Depression saw retail prices fall.
This meant prices actually increased at a time when unemployment was acutely high.
The most inflationary period of the past century was 1974 to 1984, when retail prices increased 224 percent, or an average of £0.12-£0.13, per year. Researchers attribute this to rising oil prices, as a result of the 1973 oil embargo, and increasing wages.
READ MORE:UK unemployment down, but wages fall behind inflation
Ashish Misra, Lloyds' Wealth Investment Office, said: "Over the past 100 years the large increase in retail prices has substantially eroded the purchasing power of the pound. In fact, the value of money has fallen, on average, by just under 5 percent per year since 1914."
"An individual today would need close to £90 million to have the same purchasing power as £1 million in 1914," he added.
Researchers speculate that the value of money will decline by 94 percent over the next 100 years, meaning £100 in today's money would then be worth £1,582.
You don't have to look into the past to see stark differences in the cost of things, however.
READ MORE:Venezuela plunges into recession with record inflation
A study by The Guardian last summer revealed how food prices can vary between cities across the globe.
Potatoes are £0.80 a kilogram in a London Tesco's, while Sydney residents can expect to pay the equivalent of £1.18.
A 250g tub of butter costs an average £0.98 in the UK, while people in Toronto fork out the equivalent of £2.44.
A can of beer, which costs £0.97 in your local Tesco, cost the euro equivalent of just £0.47 in Berlin.
Of the seven global cities The Guardian studied, Berlin was the one with the cheapest grocery prices, while Toronto residents were deemed to live in a city even more expensive than London.
You can share this story on social media: