British Army recruits asked if they are gay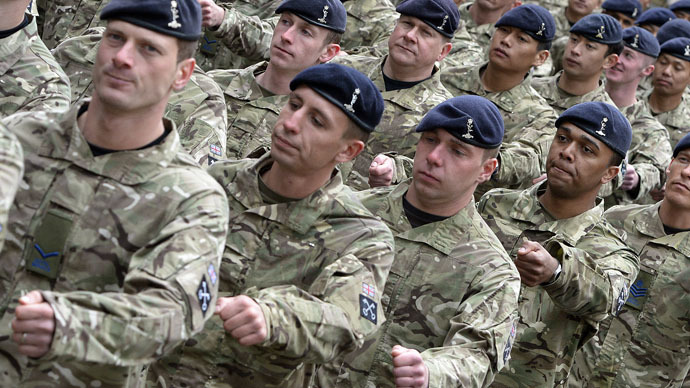 New recruits in the British Army will be asked about their sexual orientation in a bid to improve diversity.
Recruits who don't want to answer the question will have the option to put "prefer not to say."
The Ministry of Defence (MoD) defended introducing the question about sexual preference, claiming it will help to make the organization more inclusive.
The move was welcomed by gay rights campaign group Stonewall.
"Service personnel are now encouraged to declare their sexual orientation," an MoD spokesman said.
"Although this is not mandatory, collecting this data will give us a better understanding of the composition of our armed forces and help ensure our policies and practices fully support our personnel."
"The MoD proudly encourages diversity at all levels," he added.
The information won't be visible to officers and will be made anonymous to ensure no one can be identified by their sexual preference.
READ MORE:Women could join British Army's close combat infantry by 2016
The British military has been slow to recognize the rights of gay and lesbian recruits in the past, having banned them from service for most of its existence.
January 12, 2015, marks the 15th anniversary of the ban's lifting.
The law was changed following a ruling by the European Court of Human Rights, which said that banning gay and lesbian personnel from service was illegal. Brigadier Pat Lawless, a senior ranking officer, resigned in protest to the lifting of the ban.
This latest decision by the MoD was welcomed by gay rights activists.
James Wharton, 28, suffered abuse for being openly gay while serving as a Queen's Guard.
He told the Sunday Mirror: "It's fantastic news. But it's important troops don't have to reveal sexual preferences. I wasn't ready to do that."
READ MORE:'Anyone with a pulse': British Army to recruit over 50s as reserves dwindle
Stonewall, a gay and bisexual rights charity, also welcomed the move.
Spokeswoman Mandy McBain told the Sunday Mirror: "By knowing more about personnel, the forces can support them better."
The number of gay recruits in the armed forces is unknown, but 298 were kicked out the year before the ban was lifted.
Even though the law has been changed, gay and lesbian personnel have struggled for equal treatment.
Lance Bombardier Kerry Fletcher won £124,000 compensation in 2009, after suffering harassment that forced her to quit the Royal Artillery.
You can share this story on social media: