The lion's share: Christmas trees recycled as big cat toys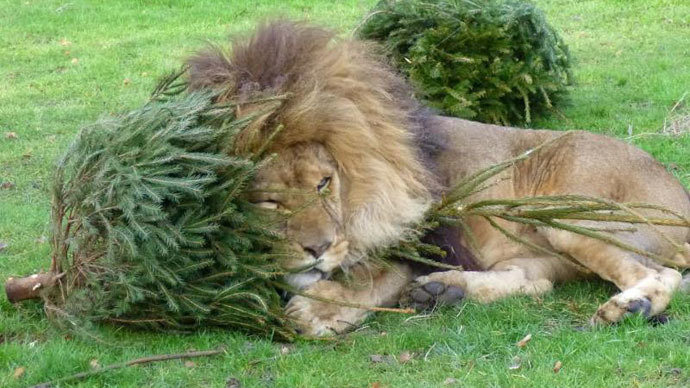 A British zoo has found a novel way to re-use Christmas trees after the festive season. Lions at Linton Zoo in Cambridgeshire have been given discarded pines as toys, with some heart-warming results.
The Cambridgeshire zoo issued a plea for members of the public to donate their Christmas trees to the wildlife center, where they can be used in a variety of ecological recycling schemes.
Some of the trees are given to the lions to play with, while others are used to decorate aviaries. The excess dried wood is burned in the zoo's biofuel burner, providing additional hot water and electricity.
Trees that haven't been de-rooted and are still alive can be replanted and given "a second chance" in the zoo's woodland area.
The zoo says that the trees are "like cat nip" to the big cats, who can be seen playing with the shrubbery. The lions in the video, called Zuri and Safina, are the youngest pair at the zoo.
Linton Zoo said they have had a "fantastic" response to the campaign, and are awaiting many more tree donations.
You can share this story on social media: