London airport evacuated over 'suspicious device'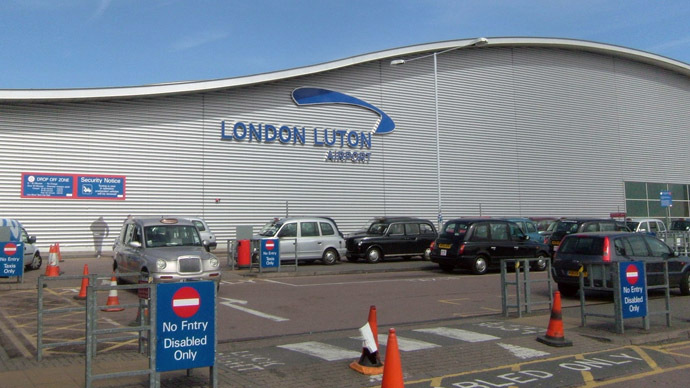 London's Luton Airport terminal building has been evacuated after the discovery of a suspicious item in the security area, the police and airport said on Monday.
"London Luton Airport has evacuated the terminal building after a suspicious item was found in the security search area. The decision has been taken with the police to ensure the safety and security of passengers and staff," Luton Airport said on their website.
According to Reuters, Bedfordshire Police have cleared the departure lounge at Luton, the country's sixth biggest airport which primarily serves holiday destinations.
LIVE PHOTO "@roxanny_: Crowds at #Luton. Terminal building has been cleared & bomb disposal has arrived pic.twitter.com/x81xbzi0U0" - @PollyR_A

— AirLiveNet (@airlivenet) September 8, 2014
A spokeswoman for Luton Airport said passengers were sent out of the terminal after the package was "found in security" at about 14:00 BST.
"Further updates regarding the security and operations at the airport will be provided as soon as possible," she said.
BREAKING All flights diverting from Luton Intl Airport to Stansted airport after suspicious package found in terminal pic.twitter.com/mPfNVioCDL

— AirLiveNet (@airlivenet) September 8, 2014
The airport said all incoming flights had been suspended and advised passengers to contact their airlines for the status of their flights. The approach road to the airport has also been closed, it said.
PHOTO: "@NewsOnTheMin: Bomb disposal team called to Luton Airport http://t.co/bPdo9Z5XQUpic.twitter.com/an8bD9YWdX" - @PollyR_Aviation

— AirLiveNet (@airlivenet) September 8, 2014
Britain recently raised its international terrorism alert from "substantial" to "severe" – its second-highest level – over events in Iraq and Syria and threats from Islamic State (IS).
Prime Minister David Cameron has said IS poses a "greater and deeper threat to our security than we've seen before."