UKIP's Farage tells Fox News host Britain must "stand up" for its values against ISIS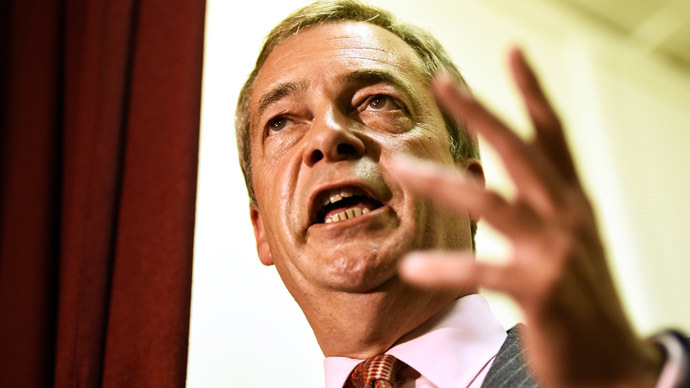 Britain is a "Judeo-Christian country" that must "stand up" for its values against the Islamic State (IS, formerly ISIS) said UKIP leader Nigel Farage, when he appeared on Sean Hannity's Fox News show.
Farage was invited to discuss the UK's anti-terror proposals, announced on Monday, which suggest seizing the passports of terror suspects to prevent British-born extremists from returning to the UK.
Prime Minister David Cameron was forced to backtrack on some of his proposals when it was concluded that rendering citizens stateless breached international law.
"We've now got somewhere between 500 and 1,500 British UK passports holders who are fighting in the ranks of ISIS," Farage told the neo-conservative host.
"It's unbelievable...It's too many. And the prime minister's first position was that he'd take passports away from those he thought would go. What I said was I don't want those that have gone becoming even more radicalized, brutalized, coming back into our country."
Britain's terror threat level was officially raised from 'substantial' to 'severe' last week. In a Downing Street press conference, Cameron called IS a "greater and deeper threat to our security than we've seen before," and said "gaps in our armory" would need to be filled with new legislation.
Farage said Cameron was simply "following" his lead after UKIP released an official statement following the beheading of US journalist James Foley, which called for measures to strip all militants, with sole and dual nationality, of their UK citizenship.
Taking aim at the European Union, he said Cameron would struggle to carry out his proposals because of constraints imposed by the European Convention on Human Rights.
Hannity showed a clip from his interview with UK radical Islamist preacher Anjem Choudary, in which they argued about radical Islam and American military aggression. Farage blamed a decline in traditional values for the rise of extremism in the UK.
"A lot of this is our own fault," he said. "We have been too weak. My country is a Judeo-Christian country. So we've got to actually start standing up for our values.
"All that's going on in Iraq at the moment...our primary responsibility is to make sure it doesn't happen inside our countries...The level of people in schools and in prisons too and in all these public institutions where people are radicalized, we can do something about that."
Farage has confirmed he wants to stand in the Thanet South seat in the 2015 General Election. The anti-EU party won last May's European election, gaining 27.5 percent of the vote and outpacing the ruling Conservatives and opposition Labour party.
Most of the over-4 million British voters who backed UKIP in May say they are determined to cast their votes for the party again in 2015. UKIP calls for Britain to leave the European Union and stands for stricter border controls within the EU.
"Some people predict you may be the next prime minister, is that true?" asked Hannity at the beginning of his interview with the UKIP leader, to which an amused Farage said, "Well, we're making progress."
Hannity, who agreed with many of Farage's comments, said he would follow his career "very closely." Referring to Britain's wartime prime minister, Hannity said, "We need Winston Churchills coming out of your country."
You can share this story on social media: