Fears of Ebola spreading in UK 'not justified' – London hospital
Published time: 26 Aug, 2014 11:40
Edited time: 21 Sep, 2014 06:58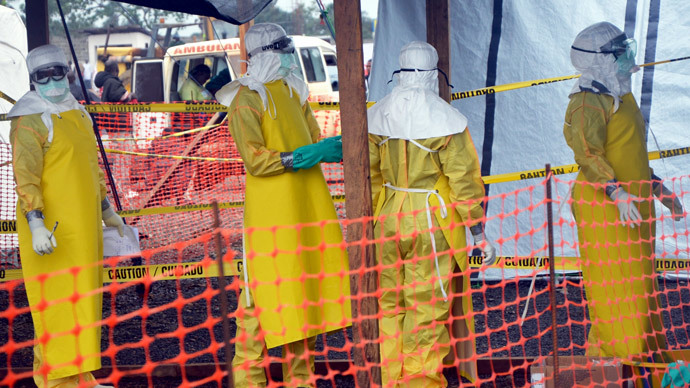 While a Briton who contracted the deadly Ebola virus in Sierra Leone is being treated at a specialist hospital in London, health officials say fears of Ebola spreading in the UK "are not justified."
British healthcare worker William Pooley is the first Briton to test positive for the hemorrhagic fever that has killed almost 1,500 people.
The 29-year-old volunteer nurse contracted the Ebola virus after treating patients suffering from the disease at Kenema Government Hospital in southeastern Sierra Leone.
Pooley was flown to the UK from West Africa in a specially equipped Royal Air Force cargo plane on Sunday and transported to a high-level isolation unit at the Royal Free Hospital in London.
Pooley's family said he is "receiving excellent care" at the hospital, adding that they were "astounded" by the speed at which authorities had acted following his illness.
His boss at the Shepherd's Hospice for sufferers of AIDS and cancer in Sierra Leone, where Pooley first worked in the country, said that he had warned him not to transfer to a hospital treating Ebola patients.
Pooley wanted to move from the hospice in the country's capital, Freetown, to a hospital in the east of the country, after hearing that local medical workers were abandoning the patients in fear of their lives.
"About five weeks ago he decided to go to a public hospital providing treatment for Ebola victims in Kenema, having heard the news that nurses were abandoning patients because they were fearful of contracting the virus," Gabriel Madiye, the hospice's executive director, told The Times.
"We granted him the three-week period and after that he came back and said there was a need for him to be there. He informed us about the poor sanitation, the hygiene and how patients were suffering."
Pooley, who knew the risks involved, nevertheless pleaded to go back, Madiye said. "I know the risks involved and I really advised that he stay in Freetown and keep reaching patients through the hospice program, but he said that he wanted to help Ebola patients," he added.
In an interview with The Guardian earlier this month, Pooley said of his work at an Ebola center in the country: "It's great seeing [the patients] walk away after some of them have been in a terrible state and seeing them on the wards."
Dr Robert Garry, an American colleague, said that Pooley had done the "honorable thing" by attempting to help.
"He saw the need. He read about our nurses who were unfortunately dying there and took it on himself to come over and volunteer and learned how to be as safe as he could," he said.
"But when you work hard like that, when you put in so many hours, you're going to make a mistake and unfortunately that seems to have happened in this case."
The World Health Organisation estimates that 2,615 people have been infected with Ebola in the current outbreak, which has been sweeping through western Africa since March. A total of 1,427 people have died.
The WHO said more than 240 health workers have contracted the disease and around half of those infected workers have died.
However, public health officials have stressed there is little risk to the general public in the UK.
Dr Mike Jacobs, of the Royal Free Hospital, told the BBC's World at One program: "It isn't easy to transmit this disease from one person to another."
The people who are most at risk are "health care workers in the UK who will confront these cases and there are very careful protective measures in place to ensure that healthcare workers are not at risk of acquiring the infection," he added.
Although Ebola has a very high mortality rate and no treatment or vaccine has so far been licensed for it, the virus is actually much less contagious than many other more common diseases.
Ebola – like HIV or hepatitis - is transmitted through direct contact with the blood, or bodily fluids of an infected person or animal, either through actual physical contact or via infected objects such as needles.