'Unrelated to Warsi': 2nd Foreign Office minister resigns
Published time: 11 Aug, 2014 13:31
Edited time: 11 Aug, 2014 13:45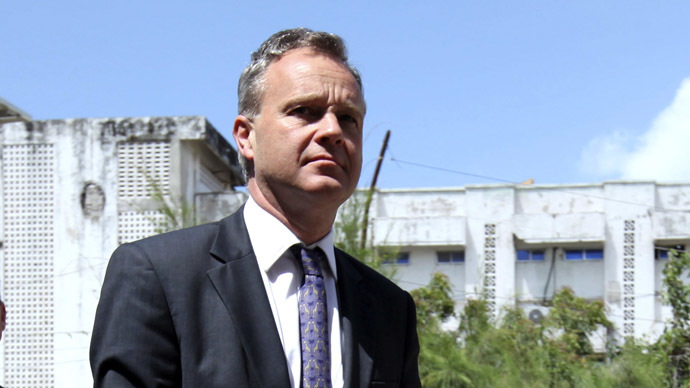 Mark Simmonds, Minister for Africa, has resigned from the Foreign Office. He is the second Foreign Office minister to quit in a week, but Downing Street emphasized his departure is unrelated to Baroness Warsi's high-profile resignation over Gaza.
Simmonds' decision to resign only became public knowledge on Monday, because he had wanted time to conclude his role as chair of a UN Security Council meeting on the Democratic Republic of the Congo last week.The UK assumed the presidency of the Security Council on 1 August.
Conservative Simmonds handed in his resignation letter last Monday. A Downing Street spokesperson said: "There was a delay in the announcement because he wanted an opportunity to chair the UN Security Council and finish his work there." Downing Street also said that his resignation is unrelated to the departure of Baroness Warsi over the UK's handling of the Gaza crisis.
Mark Simmonds resigns as Africa minister - 2nd FCO min to go in a week. No10 says resignation unrelated to Warsi pic.twitter.com/thPzBqjJ7Z

— Nicholas Watt (@nicholaswatt) August 11, 2014
Simmonds and Prime Minister David Cameron agreed on his resignation weeks ago. In his response letter, Cameron said that he knows this is a decision Simmonds has "given a huge amount of thought to over recent months." He added: "I am grateful for your continuing your Ministerial role this extra time since our conversation, so that you could chair the UN Security Council this week on behalf of the UK Government."
In his letter, Cameron praises him as a loyal colleague and "good friend," who has "worked diligently building relationships and advancing Britain's interests across the continent, including with some of the most important growing powers in the region, like Nigeria." He also referred to Simmonds's work during the crisis in Mali, the Westgate mall attack and the abduction of the Chibok girls by Boko Haram.
Simmonds will also step down as MP for Boston and Skegness at next year's general election.
A spokesperson for Simmonds said he was resigning "for personal reasons, because of his family." Simmonds is married and has 3 children.
He is replaced by James Duddridge.
Meanwhile, Britain's first female Muslim cabinet minister Baroness Warsi said that the "electoral reality" is that the Conservatives won't win a majority at the next election unless the party starts attracting more ethnic minority voters.
In her first newspaper interview since resigning last week over the Government's "morally indefensible" policy on Gaza, she said the Tories around David Cameron have dismissed her for years as "a brown, working-class woman not good enough" to serve in government.