Gove goes from education post to chief whip
Published time: 15 Jul, 2014 10:17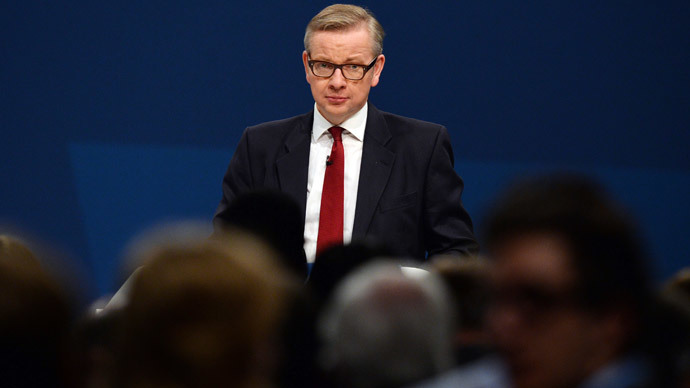 Education Secretary Michael Gove has been removed from his post at the Department for Education (DfE) and made new chief whip in David Cameron's most sweeping cabinet reshuffle to date.
Declaring Gove's move to chief whip, a behind-the-scenes role in charge of party discipline, Cameron tweeted that the former education secretary would have"an enhanced role in campaigning and doing broadcast media interviews."
Michael Gove is Commons Chief Whip. He'll have an enhanced role in campaigning and doing broadcast media interviews. #Reshuffle.

— David Cameron (@David_Cameron) July 15, 2014
The former education secretary is highly valued by Cameron, but was hugely unpopular with teachers. Last year the National Union of Teachers and the Association of Teachers and Lecturers passed no-confidence motions in Gove, calling for his resignation. Gove himself has called striking teachers "the enemies of promise" and "Marxist ideologues."
"Michael Gove has clearly lost the support of the profession and parents for justifiable reasons," said Christine Blower, general secretary of the National Union of Teachers, the largest teachers' union.
"His vision for education is simply wrong. His pursuit of the unnecessary and often unwanted free schools and academies program, the use of unqualified teachers, the failure to address the school place crisis and endless ill-thought out reforms to examinations and the curriculum have been his hallmark in office," she said.
Nicky Morgan has stepped up from the Treasury to replace Gove as part of what is thought to be a deliberate effort by Cameron to promote more women into the cabinet.
The union said they would be seeking an early meeting with Morgan, and hope for a more conciliatory relationship.
Daughter says everyone in school started cheering when #Gove news broke

— Julie Gillin (@juliegillin) July 15, 2014
Glad to see #Gove has been removed as Education Secretary. Anyone know anything about Nicky Morgan? Let's hope it's not more of the same!

— Neal Osgood (@nealosgood) July 15, 2014
Let's all be happy that a disgusting, ideologic, ignorant excuse for an Education Secretary is gone. Bye bye #Gove

— Jonny Rees (@jonnysnaphappy) July 15, 2014
Polls suggest Gove is a toxic brand among floating voters, which way provide some further insight into why he was moved at this stage ahead of next year's general election.
During his four-year spell in office, Gove oversaw the highly unpopular hike in tuition fees to 9,000 pounds a year, which sparked nationwide student protests.
He also introduced controversial free school and academies programs, which saw schools removed from local authority control and made answerable to the DfE. Many new free schools have been set up by parents in areas with low demand for school places at a time of huge shortages elsewhere. Others have performed badly in Office for Standards in Education (Ofsted) inspections.
Gove also courted controversy over his traditionalist approach to learning, and his interest in teaching patriotic and religious values in schools.