Unpaid in the UK: No lunch, no overtime as excessive work culture grips Britain
Published time: 9 Jul, 2014 15:40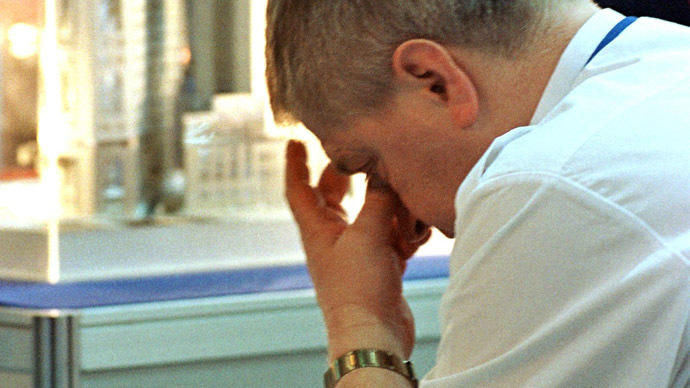 A culture of overtime is deeply embedded in UK work places, as nearly 50 percent of managers work a full day of unpaid overtime each week, research published by the Institute of Leadership and Management (ILM) has revealed.
Conducted online, theresearchsurveyed a total of 1,056 managers based in the United Kingdom. It found that 76 percent work late on a regular basis, while 48 percent work so hard they fail to take a lunch break.
A further 13 percent of UK managers work a full two days overtime per week without any remuneration, the study suggests.
The rise of smartphone technology enables many managers to access work emails from practically anywhere. According to the ILM's research, 60 percent of managers use their personal phone for the purpose of work while 86 percent regularly check their emails in the evening and at weekends.
Reflecting on the study's findings, Charles Elvin, Chief Executive of the ILM, said on Wednesday: "Smartphones are a fantastic enabler of flexible working, but we see here that they can also lead to some rather unhealthy behaviours, such as the obsessive checking and sending of out-of-hours emails. We all know how stressful it can be to receive an urgent late night email when you feel compelled to respond immediately. Organizations can help address this with some clear guidelines on email etiquette, including when best to send and reply to important messages."
Over 60 percent of managers in the United Kingdom feel pressured by their employers to work overtime, the ILM's research indicates. However, six out of ten managers admitted this pressure to work additional hours was partially self-inflicted.
The ILM's study only charts the working patterns of individuals in management positions. But Elvin claims a culture of unpaid overtime is widespread throughout Britain.
Commenting on the broader implications of the research, he said: "When you add up all the skipped lunch breaks, early morning conference calls and after hours emails you see just how widespread the extra hours culture is within UK business."
Britain's culture of out of hours work is highly profitable. It's estimated to generate approximately £35bn ($60bn) in the state's financial and corporate sectors, alone.