British graduates face jail time for lying on CVs
Published time: 3 Jul, 2014 16:55
Edited time: 3 Jul, 2014 17:29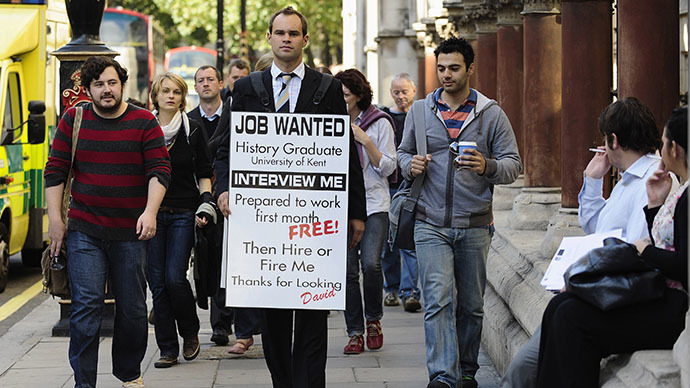 ​Students who are caught lying on their CVs will risk a jail sentence, amid fears that university graduates are embellishing the truth to get ahead in the jobs market.
Fraud prevention officers have sent a pamphlet to every university in the UK, warning students that "white lies" on their job applications could be classed as "fraud by false representation"– a crime that carries a prison sentence of up to 10 years.
The pamphlet, produced by the government's anti-fraud service CIFAS, says: "Your dream job asks for a 2:1, but you've got a 2:2 – so you just make a little change on your CV. You're worried you don't have enough work experience – so you pretend your summer of trekking through Nepal was actually spent working at a local solicitor's firm.
"After all, no one really checks, right? It's just a little white lie, right? Wrong. It's fraud."
The guide claims that a former student was jailed for 12 weeks, after he lied about holding a master's degree, and that a female student was imprisoned for six months because she made up fake references and exam qualifications.
"Ignorance isn't an excuse if you get caught out," said Simon Dukes, chief executive of CIFAS.
According to government figures, the number of employment fraud cases in the UK skyrocketed by almost 60 percent between 2012-13, although there is no figure showing how many of these cases were related to graduate job applications.
The crackdown on students comes amid growing competition between UK graduates for a decreasing number of jobs, as well as data showing that one in 10 students remain unemployed six months after graduating.
According to the most recent study from the Association of Graduate Recruiters (ARG), 85 students were competing for each job on average, with even more students fighting it out in competitive industries such as financial services and the media.