Golden gift: Olympic champ presents SUV to first coach
Published time: 22 Aug, 2012 13:55
Edited time: 22 Aug, 2012 17:57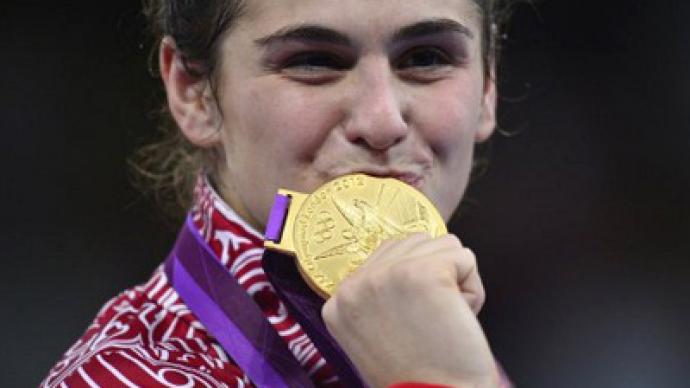 London 2012 freestyle wrestling gold medalist, Natalya Vorobieva, hasn't forgotten about her first coach after her Olympic triumph.
­Vorobieva has presented trainer Kamil Dzhiganchin with an SUV in recognition of his contribution in developing her skill.
"I promised my first coach that if I won the Olympic Games, I'd buy him a car," the 21-year-old told the Russian Wrestling Federation's official website. "And after winning in London, I immediately remembered those words. We made arrangements with the car dealer and the SUV was waiting, beautifully decorated with a big red bow. We congratulated the coach and handed him the keys. At first he could not say a word, but managed to come to terms with the gift after some time."
The Russian, who began wrestling at 10 years old, wanted to quit sports on several occasions, but Dzhiganchin always managed to find the right words to persuade her to go on with her career.

"Kamil Kamilevich [Dzhiganchin] came up to me and asked if I wanted to wrestle," Vorobieva remembered. "There were about 20 of us – girls – there. Everybody ran away, but I stayed. We have worked togerther for five years. It was he who taught me how to wrestle, and all the other coaches only corrected and improved my technique."
According to the athlete, Dzhiganchin is responsible for 50 per cent of her success at the Games.
Vorobieva topped Bulgaria's Stanka Hristova in the 72kg category final in London to become Russia's first-ever female Olympic champion in freestyle wrestling.
Natalia Vorobieva and coach Kamil Dzhiganchin posing in front of the SUV (Image from wrestrus.ru)