Boxer Mayweather Jr tops Forbes moneymakers list
Published time: 19 Jun, 2012 09:35
Edited time: 18 Apr, 2018 15:10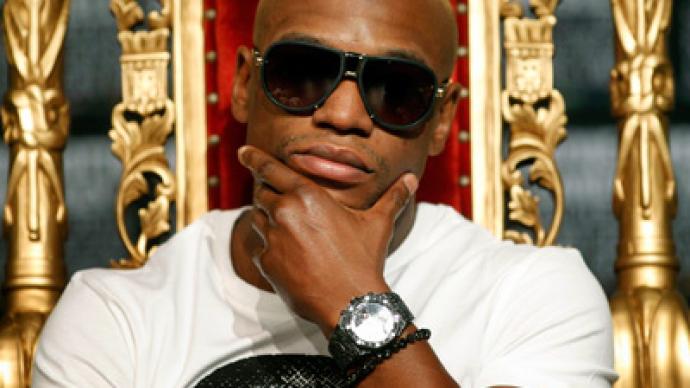 Floyd Mayweather Jr. has topped the annual list of the world's 100 highest-paid athletes by Forbes magazine. The US boxer, whose nickname is Money, has earned $85 million, despite spending less than an hour in the ring.
­Mayweather fought twice between June 2011 to June 2012, knocking out Victor Ortiz in September and winning a unanimous decision in May against Miguel Cotto.
The 35-year-old fighter is currently serving a three-month prison term for assaulting his ex-girlfriend back in 2010.
Mayweather's main rival for the title of the planet's best pound-for-pound boxer, Manny Pacquiao, has taken the second spot in the list.
The Filipino has just lost his WBO welterweight belt to Timothy Bradley, but it didn't prevent the Pacman from making $62 million.
Golfer Tiger Woods, who has been the top-earner since 2001, managed only third position this time.
His income decreased by $16 million in comparison with the previous year, as the American earned $59.4 million.
The Top 10 highest-paid athletes included basketball ace LeBron James ($53 million), tennis player Roger Federer ($52.7 million), another NBA great Kobe Bryant ($52.3 million), golfer Phil Mickelson ($47.8 million), and two footballers – David Beckham ($46 million) and Cristiano Ronaldo ($42.5 million).
Meanwhile, there are only two women in the Top 100. Tennis queen Maria Sharapova remains the world's wealthiest female athlete, occupying 26th spot after adding $27.6 million to her bank account last year.
Maria's WTA Tour rival Na Li is in 81st spot as the first Chinese to win a Grand Slam made $18.4 million.
The world's 100 highest-paid athletes have jointly earned a total of $2.6 billion in the last 12 months.