Generous Lochte gifts Worlds medal to young fan
Published time: 15 Dec, 2012 13:36
Edited time: 15 Dec, 2012 23:19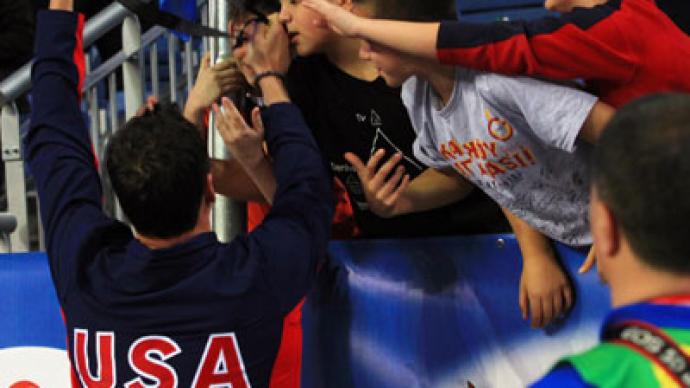 US swimmer, Ryan Lochte, has given his gold medal away to a boy in the crowd after winning the 200m medley and setting a new world record at the World Short-Course Championships in Istanbul, Turkey.
­"One of the main reasons for racing is because of my fans, so I always want to give something back," Lochte is cited as saying by SwimNews.com. "If I took the medal it would end up in a sock drawer, if I give it to a fan they're going to treasure it. It will make their day or even their life. To see that smile on that little face means everything to me."
"I give them all away," he added.
Despite being a favorite in the 200m medley, Lochte confessed that the world record time of 1 minute and 49.63 seconds came as a huge surprise to him.
"This was definitely the way to end 2012," the 28-year-old said. "I was not expecting a world record. I just went in to do the best I could do."
The American already boasts four golds and a bronze after three days of action in Istanbul.
A Turkish child, Arda Cakmak (R) poses next to a life-size paper board representing Ryan Lochte of the US, after Ryan Lochte gave him his gold medal after winning the men's 200m individual medley final during the FINA World Short Course Swimming Championships in Istanbul on December 14, 2012.(AFP Photo / Mira)