Everton close to buying Spartak star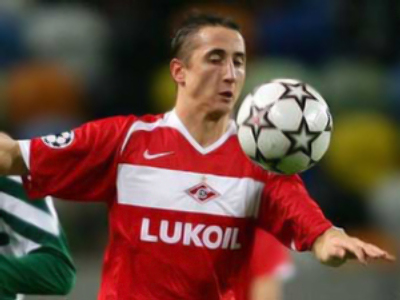 Another Russian international is reported to be on his way to England as Everton have their eyes on Spartak Moscow midfielder Vladimir Bystrov.
The Toffees' coach David Moyes has called the 25-year-old winger his number one priority in the current player trading window.
According to the Liverpool Echo newspaper, the ₤8 million deal is to be signed in the next few days.
Bystrov fully justifies his surname, which means "fast" in Russian, as speed is known to be one of the strongest parts of his game.
He started his career in Zenit Saint Petersburg back in 2001 and joined Spartak in 2005, scoring 23 goals in 172 appearances in the Russian Premier League.

He also has 24 caps and 4 goals for Russia. He was on Guus Hiddink's resurgent Russian squad who reached the semis at Euro 2008, but Bystrov spent just 25 minutes on the field during the tournament.
The midfielder than made a strong comeback onto the team in the World Cup 2010 qualifiers.
Everton recently expressed interest in signing a few other footballers playing in Russia, but failed to sign Pavel Pogrebnyak from Zenit and Vagner Love from CSKA Moscow.
If Bystrov moves to the Liverpool team he'll become the 4th Russian in the English Premier League after Arsenal's Andrey Arshavin, Chelsea's Yury Zhirkov and Tottenham's Roman Pavlyuchenko.
Everton finished 5th last year. The team had a dreadful start in this year's English Premier League season, getting thrashed by Arsenal 6-1 at home.