Murder suspect in Dagestan nightclub case is 'ex-pupil' of Khabib's father & trainer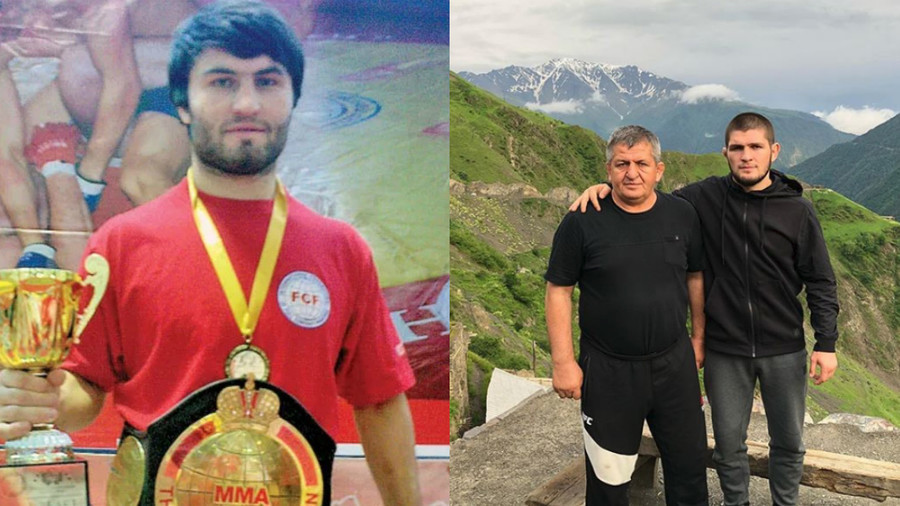 The suspected gunman in a killing at a nightclub in Dagestan's capital Makhachkala, Shakhban Machaev, is a former martial arts pupil of UFC champ Khabib Nurmagomedov's father and trainer Abdulmanap, according to reports.
Machaev, 26, is the prime suspect in the killing of a National Guard of Russia trooper at the entrance to the city's 'best' nightclub on Saturday after a brawl broke out between a group of revelers, and making his getaway in his car parked nearby. The trooper allegedly intervened in the fight.
It was later reported that Machaev, a former world champion in hand-to-hand combat, was once trained by Khabib's father Abdulmanap, a renowned coach throughout Russia and especially in his native Dagestan, in Russian national martial art sambo.
Abdulmanap, a master trainer who is also responsible for the coaching duties of his son, mentioned the young grappler by name in a 2012 interview as one of his successful students.
"I will congratulate the World Championship medalists: Muslim Ucakaev, Abdurakhman Nurmagomedov...Shakhban Machaev. Whoever I've forgotten, please do not be offended," Nurmagomedov Sr. said then.
However, Abdulmanap denied knowing him personally when asked about his former charge after the murder, Gazeta reported.
"Honestly speaking, he trained under me. Many people are writing about it but it's not like that. He trained in semi-contact hand-to-hand combat, and under me - combat sambo," the 55-year-old said after the incident.
READ MORE: Ex-England football icon Paul Gascoigne charged with sexual assault on train
"Of course I saw him - in Dagestan everyone sees everyone, but in the gym - no. So I don't know anything about him and can't say anything," he added.
Machaev is currently in a serious but stable condition at the Republic's trauma center after being wounded by return fire from the fatally wounded victim.
In the aftermath of the murder, Abdulmanap's son Khabib supported the call to shut down all nightclubs in Dagestan. "A question to my fellow Dagestanis: what benefit do these night clubs bring to our society?" the fighter wrote on Instagram.
The post was in response to a motion from local entrepreneur and philanthropist Eldar Iraziev, who suggested closing the "dirty business" of night clubs and instead opening up children's centers.