Footballer sparks brawl by shoving ball-boy into advertising boards in UCL match
Published time: 14 Mar, 2018 12:47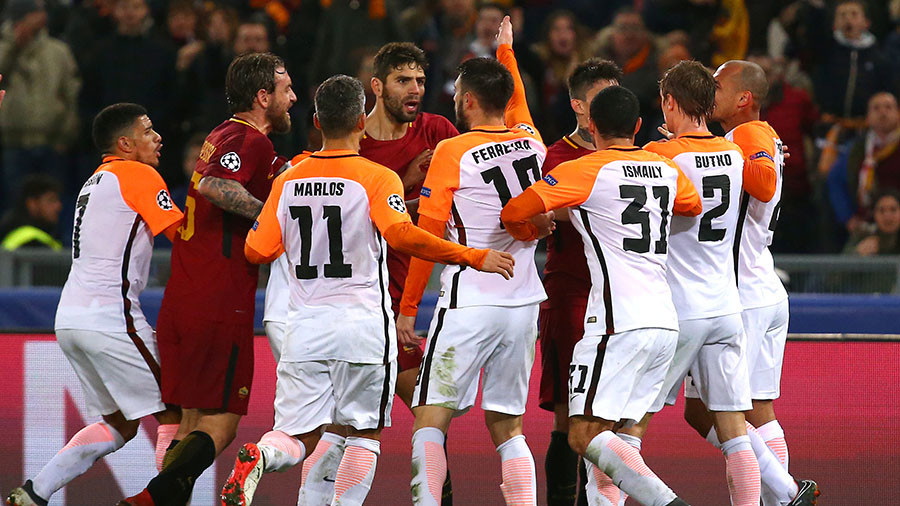 Shakhtar Donetsk's Argentinian forward Facundo Ferreyra sparked a mass brawl by shoving a ball-boy over advertising hoardings during a Champions League clash against Italian side Roma.
Shakhtar held the advantage going into Tuesday's game after winning the home leg against Roma 2-1. However, their hopes of reaching the Champions League quarter-finals disappeared when Roma's Edin Dzeko netted for the home side, leveling the tie 2-2 on aggregate, meaning Roma had an away-goal advantage.
The Ukrainian side pushed to score a vital equalizer, but their efforts appeared to be in vain. With just 10 minutes remaining, a ball-boy at the side of the pitch caught the ball, but was not quick enough to return it to the pitch – apparently helping the home side to run down the clock.
How do we deal with time wasting ball boys?

We fling them over the advertising hoardings, as Shaktar striker Facundo Ferreyra did yesterday. pic.twitter.com/p4yw7IpCE9

— Ball Street (@BallStreet) 14 марта 2018 г.
Shakhtar striker Ferreyra became frustrated with the boy, rushing over and shoving him over the advertising hoarding while trying to grab the ball. The incident led to a scuffle on the pitch, but Ferreyra was not penalized for his actions.
Despite Shakhtar's vigorous attempts to regain their lead, the game ended 1-0 and Roma went through to the next stage and the Ukrainian club exited the competition at the last-16 stage.
READ MORE: Sky Sports suspends spit-shame pundit Carragher until end of football season
"It was a great night for me, for Roma and the whole club," said Dzeko, who scored the decisive goal on Tuesday. "We deserved this. We were patient, we knew that one goal could see us reach the quarter-finals. We scored that goal and then we did everything all together."