S. Korean coach banned for allegedly assaulting Olympic champion skater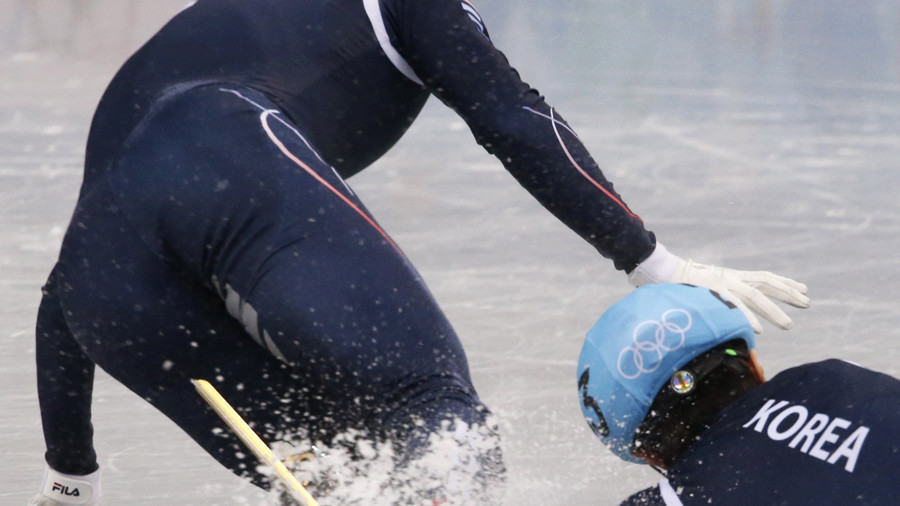 South Korea's skating union (KSU) has suspended a women's short-track team coach for allegedly beating Olympic champion Shim Suk-hee, who is expected to compete at the upcoming 2018 PyeongChang Winter Games.
No details of the incident have been revealed so far, but it was reported by AP that a male coach allegedly hit Shim during the training session prompting her to leave the national team's center. The KSU has opened an investigation into the case and immediately penalized the coach, whose name remains unknown at the moment.
"We suspended the coach after being informed of the incident by the national team. We're still in the process of confirming what exactly happened," a KSU representative said.
Shim, who was absent for two days following the incident, reportedly returned to the training base on Thursday resuming training under former team's coach Park Se-woo, who took charge of the national squad following the scandal.
Team captain Shim led South Korea to the coveted Olympic gold in Sochi in 3,000m relay, and won two more individual medals in 1,500m and 1,000m events at the same Winter Games.
The 20-year-old is widely considered as one of the medal contenders at the upcoming PyeongChang Olympics, with the skating events taking place in her home town of Gangneung.
"We will investigate the incident and take necessary measures expediently," KSU said in a statement. "We will make our utmost efforts to make sure athletes focus on preparing themselves for the Olympics."
In 2004, six South Korean top female skaters accused their coaches of brutal treatment, claiming they were systematically beaten with ice hockey sticks and iron gauges during training.
READ MORE: US Olympic champion gymnast Aly Raisman reveals sexual abuse by team doctor
The 2004 scandal, which shattered the national squad, led to resignation of two team coaches and several members of the KSU board of directors. This was not the first case, when South Korean athletes suffered at the hands of their coaches, as in 2004 a judo coach was suspended at the Athens Olympics for hitting a female athlete.
You can share this story on social media: