Russian Cyrillic banner sees Panama through to 1st-ever World Cup & national holiday
Published time: 11 Oct, 2017 14:58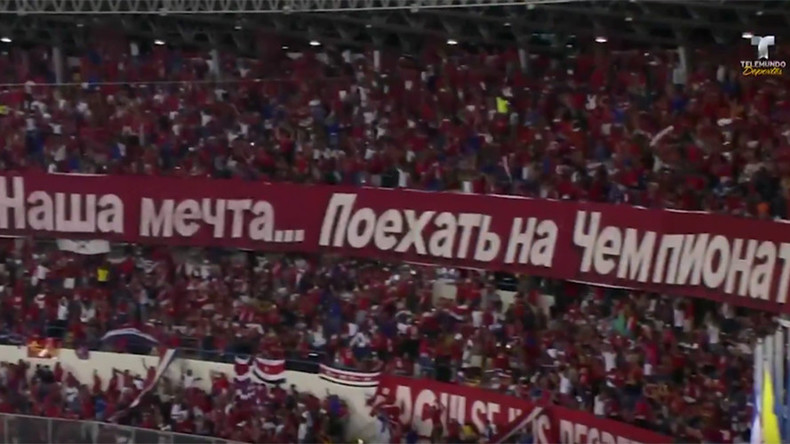 A banner with a Russian message has overseen Panama's dramatic qualification campaign for the FIFA 2018 World Cup Russia next summer, after which the country's president declared a national holiday.
'Los Canaleros' sealed their place at Russia 2018 - their first-ever appearance at a World Cup - with an 88th-minute winner from striker Roman Torres that gave them a 2-1 against neighbors Costa Rica on Tuesday.
The result meant the small Central American country of 4 million people finished third in the group behind Costa Rica and group winners Mexico.
As the camera pans onto Panama fans in a state of rapture at the Estadio Rommel Fernández Gutiérrez stadium in Panama City, a huge banner can be seen in the stands with a message written in Cyrillic - the alphabet of the Russian language.
The message reads "Сборная...Наша мечта...Поехать на Чемпионат мира," which translates as "Our national team...our dream...is to go to the World Cup."
It turns out the Cyrillic creation has been something of a mainstay during Panama's World Cup qualification quest, having also been spotted at a match with Mexico in November 2016, although it brought them no such luck that day as they lost 1-0 to 'El Tri.'
Following confirmation of his country's Russia 2018 participation, President of Panama Juan Carlos Varela announced a public holiday in celebration.
"The voice of the people has been heard; celebrate this historic day for Panama. Tomorrow is a national holiday," Varela wrote on Twitter.
"It is a historic day for the country. Tomorrow will be free for the public and private sector workers. On a national holiday also classes are suspended at the country's private and public schools, celebrate family," he added in two follow-up tweets.
Varela then posted a picture of himself signing the decree with the caption "you deserve it...Viva Panama!"
While Varela is the current president of Panama, one substitute in the match is being hailed as 'the future president of Panama' for kicking the ball away from a Costa Rica player trying to take a throw-in late on in the game.
As the ball goes out for a Costa Rica throw-in at the end of normal time, the Panama substitute, who is yet to be identified and was originally mistaken for a ball boy, races from the bench to boot it high into the air to waste time, just before the fourth official adds on three minutes.
His heroics apparently worked as Panama managed to hang on for the victory.
Panama's most famous sporting export, four-weight boxing world champion and ultra-patriotic hero Roberto 'Hands of Stone' Duran, expressed his delight at his country's footballing achievement on Twitter.
"My dream to see my team play in the World Cup is to come true. Thank you my team. Viva Panama and see you in Russia!" he tweeted.