English club vows to ban hooligans guilty in shocking brawl that injured 10yo children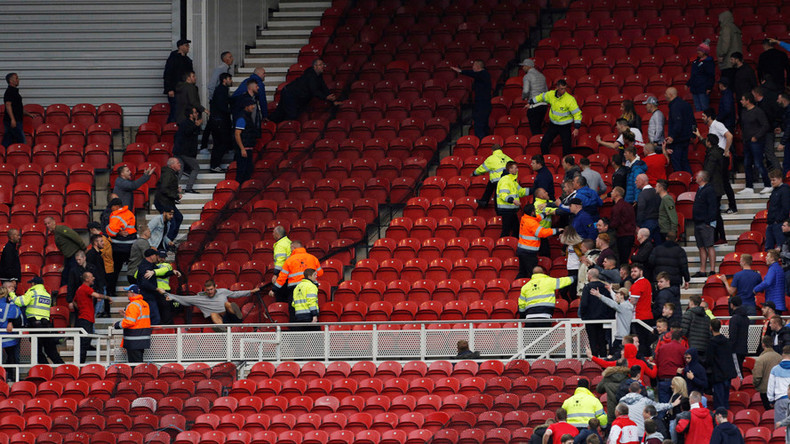 An English Championship match between Middlesbrough and Sheffield United erupted into violence that saw children as young as 10 injured in a brawl involving 200 football fans on Saturday.
Trouble initially flared when, with home side Middlesbrough leading 1-0, a group of Sheffield United supporters entered the field of play to celebrate an injury time equalizer, only for the goal to be controversially ruled out.
Fighting then broke out after the game when Sheffield United away fans boarding coaches for the journey back to Yorkshire forced their way past stewards outside the Riverside Stadium to attack Middlesbrough fans in the car park area.
Although police and stewards attempted to keep order, fans as young as 10 were caught up in the fray.
Various pieces of footage of the clashes have since circulated on Twitter.
One police officer was hospitalized as rival supporters threw bricks and traded punches, leading to five arrests, the Telegraph reported, and the Football Association has said it will work to identify the perpetrators.
The Sheffield Star reported that five people had been arrested and are now in police custody following the violence, while Cleveland Police said one man had been charged with a public order offence at the match and was due to appear in court in September.
Sheffield United have vowed to punish any "troublemaker" found guilty of violence at the match with potential banning orders.
READ MORE: 'We heard about hooligans & racism, but no incidents, all ran smoothly' – FIFA chief Infantino on Confed Cup
"We will not condone this type of behavior, particularly when the vast majority of our thousands of our fans attend home and away fixtures simply to enjoy watching the Blades in action," said Sheffield United's chief operating officer, Andrew Birks, the Telegraph reported.
"We are assisting Cleveland Police and others to identify the troublemakers and bring them to justice, which may include the potential use of banning orders," he added.
Assistant Chief Constable of Cleveland Police Jason Harwin said, "We will absolutely not tolerate violence of this nature and we will work to identify the offenders and bring them to justice," the Sheffield Star reported.
"It's terrifying for children to witness such violence, or be innocently embroiled in it as their parents frantically try to keep them safe. Unfortunately a small minority of people behave in a manner which puts innocent fans at risk," he added.