Burning bridges - Barcelona fans set fire to Neymar shirts after PSG exit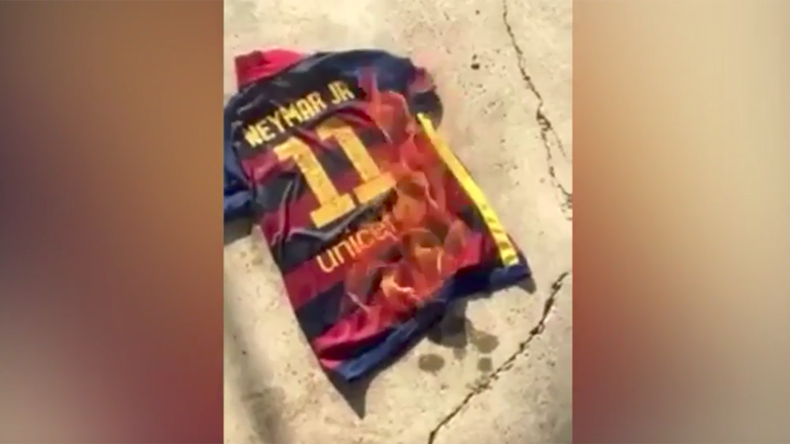 The $222mln world record transfer of Neymar from Barcelona to PSG has sparked a backlash from some football fans who showed their disgust by burning jerseys bearing the Brazilian's name and number.
Fans incensed by Neymar's mega move to the Paris Saint Germain posted videos on Twitter dousing Barcelona jersey's with Neymar 11 and setting it alight.
Other fans on Twitter said they would even going as far to buy a new Neymar shirt with the sole intention of incinerating it upon purchase.
However, the action did meet some opposition, with some supporters imploring jilted Barca fans to refrain from burning the shirts and instead accept that Neymar had moved on.
There was some positive reaction to the move in the football world, however.
French World Cup winner Marcel Desailly, who played in Ligue 1 for PSG rivals Nantes and Marseille, praised the news of the transfer as "magical", believing that it brought huge benefits and encouraging people to have an "open mind".
"So happy about this transfer news the business of sport football is growing and everybody will benefit from it," he tweeted.
"Let's have an open mind, nothing come for free in this world, there is a price for talents so let's enjoy the magic of this news.
"Taxi, hotels, traveling agencies, tax authorities, security company, broadcasters fans, merchandise sponsors, tourist will benefit," he concluded.
Manchester United manager Jose Mourinho believes the transfer will cause problems but they come from the consequences of the transfer fee, rather than from the player himself.
"When we paid that amount for Paul (Pogba) I told that he was not expensive. Expensive are the ones that get into a certain level without a certain quality, I think with Neymar is going to happen the same," Mourinho said, speaking at a press conference after his side's pre-season friendly in Dublin.
"I don't think he's expensive for 200 million, I don't think he's expensive. I think it's expensive the fact now you are going to have more players of 100 million and you are going to have more players of 80 million and more players of 60 million and I think that's the problem because Neymar is one of the best players in the world.
READ MORE: Neymar: The numbers behind the record-breaking transfer
"Commercially he's very strong and for sure Paris Saint Germain thought about it. So I think the problem is not Neymar I think the problem is the consequences after Neymar."
Mourinho has presided over his club's two record signings in Romelu Lukaku and Paul Pogba, the latter being the world's most expensive player before the Neymar transfer.
Following the transfer, Barcelona said they will not pay Neymar and the player's father, Neymar Sr., the €26 million ($30.7 miln) loyalty bonus that was included in the Brazilian's five-year contract, claiming the conditions for the bonus had not been met.