'I'm half black… from the bellybutton down': McGregor's comments branded racist (VIDEO)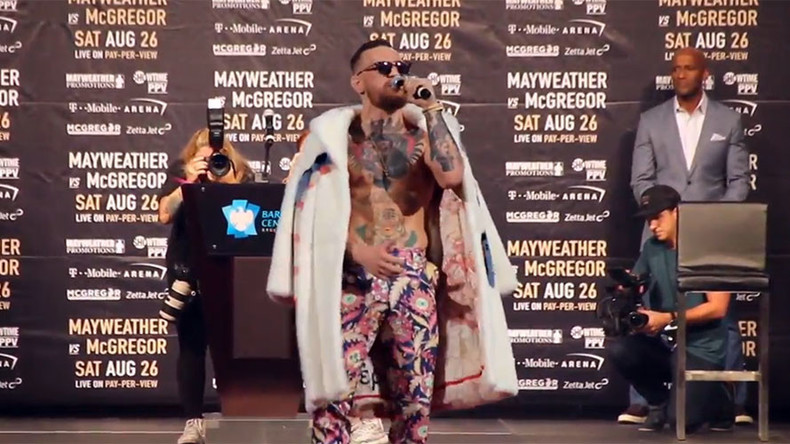 The traveling circus that is the series of press conferences ahead of the Conor McGregor v Floyd Mayweather fight on August 26 has been hitting the headlines for the gregarious Irishman's use of racially-charged language toward the boxer.
Little of the coverage surrounding this fight seems to be about the fight at all, while the press conferences themselves may very well be more entertaining than the actual encounter between the two men.
While the coverage has been plentiful, the Irish UFC champion has been accused of racism more than once during the press conferences. He has twice taunted Mayweather, saying: "Dance for me, boy!" and a clip has also emerged of him referring to black men in Rocky III as "dancing monkeys."
For his part McGregor seems unfazed, responding to accusations in typical McGregor style during the New York press conference on Thursday.
"Let me address the race," he said. "A lot of the media seem to be saying I'm against black people. That's absolutely f**king ridiculous! Do they not know I'm half-black? Yeah! I'm half-black from the belly button down."
The next installment of this circus is scheduled for London on Friday, perhaps there'll be some talk of the fight, though you shouldn't count on it.
Thankfully it'll be the last one until the fight itself on August 26.