If Russia achieve glory at this summer's Confederations Cup, it's likely that Fyodor Smolov will have a lot to do with it. The prolific striker has topped the domestic scoring charts in the last two seasons, and is now aiming to make his mark on the world stage.
FC Krasnodar striker Smolov, 27, is in a two-season vein of form that has seen him net 38 times in 51 Russian Premier League games, earning him the golden boot for 2015/16 and 2016/17.
Smolov is capable of the sublime – such as his fine solo goal in Russia's recent Confederations Cup warm-up match against Hungary – but also has a poacher's knack of putting himself in the right place at the right time in the penalty box.
His substantial returns for Krasnodar are proof that he's finally achieving the talent he so clearly possesses, although a peripatetic start to his career meant that was far from certain.
Smolov started out at Dynamo Moscow, making his Russian Premier League debut in 2007. Failing to command a regular starting place, he then had loan spells at Dutch side Feyenoord and Russian teams Anzhi Makhachkala – where he played alongside Cameroon star Samual Eto'o – and Ural Ekaterinburg.
Read more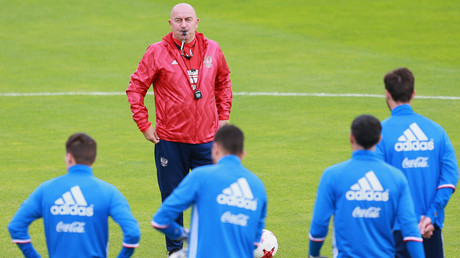 None of those spells yielded any big scoring returns, however, and he seemed destined to see his career fade.
Smolov's marriage to former Miss Russia Viktoria Lopyreva in 2013 also meant he often appeared in the celebrity columns of the press as much as on the back pages – something often cited as hampering his development.
However, with the pair's divorce in May 2015 and Smolov's move to Krasnodar in June of that year, he seemed to find the stability and platform he needed to display his long-held talent.
As well as his haul in the Russian Premier League, he also caught the eye in Krasnodar's run to the Europa League last 16, where they lost to Spanish side Celta Vigo.
After a mixed start, Smolov has also now cemented his place in the national team.
He was given his debut by Fabio Capello in November 2012, scoring in a 2-2 draw with the United States, and since then he's managed seven goals in 20 appearances.
READ MORE: Zobnin injury mars Russia's Confed Cup warm-up win in Hungary
With Zenit St. Petersburg striker Artyom Dzyuba ruled out of the Confederations Cup due to injury, the onus will be on Smolov to lead the line for the Russian team.
While he'll face strong competition from Cristiano Ronaldo and Alexis Sanchez for the tournament golden boot, you could do a lot worse than putting your money on Smolov as an outside bet for top scorer.