Death of Sergey Gimayev: Son steps in to replace ice hockey legend in commentator role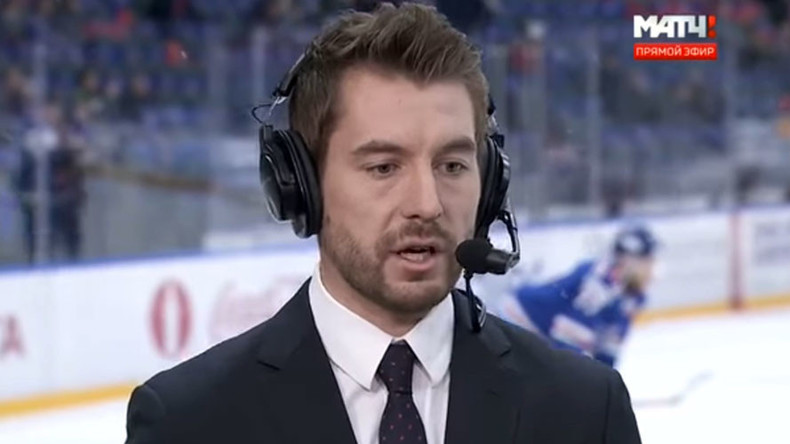 Following the death of Sergey Gimayev, the legendary Russian former ice hockey coach and commentator, leading national broadcaster Match TV found itself looking for a replacement for the biggest expert on the sport in Russia.
After numerous candidates for the role were declined, Gimayev's son, also called Sergey Gimayev, an active KHL defenseman at Vityaz (Moscow Region), was offered the position of commentator for the first KHL game after his father's death.
Gimayev junior, 33, has big shoes to fill, given his father's nickname was the "Russian Don Cherry" for his exceptional level of ice hockey knowledge.
"I'm here today because my father would be glad if I'd take his role after him," Gimayev told the TV audience in the first intermission of the game.
"I'd want to close my eyes, open them to see that it was just a bad dream, an illusion. But that is the reality. My father would come to every one of us, tap us on the shoulder and say, 'Life goes on.' He loved life, he was grateful for every day. We should learn it from him," Gimayev added, visibly shaking and looking away from the camera.
It's not known if Gimayev will work as a TV expert on a regular basis, or if he will continue to pursue his ice hockey career.
Sergey Gimayev senior suffered a heart attack on Saturday, March 18, while taking part in a veterans' game in the city of Tula, 110 miles south of Moscow.
The 62-year-old, who played 10 seasons (1976–86) in the Soviet Championship League with CSKA Moscow and SKA St. Petersburg (formerly Leningrad), had walked off the ice to the locker room, asking for medical help.
He was pronounced dead in the same locker room just minutes later, to the shock of the Russian and global ice hockey community.
Well-known Russian ice hockey players, including Washington Capitals' Alexander Ovechkin and Pittsburgh Penguins' Evgeni Malkin, later paid tribute to the late Gimayev on social media.
Both players posted pictures of the former coach with the caption "Eternal Memory," written in Russian. "Hard to believe," added Malkin.
Gimayev has been buried at Novoluzhinskoe cemetery, just outside Moscow, on March 21 with a large number of the Russian ice hockey community present.
Commenting on the news of Gimayev's passing, International Ice Hockey Federation (IIHF) President Rene Fasel said: commenting the news: "I knew him personally, we've met on a few occasions. What happened is very sad. I was genuinely surprised when I learned the news, given that he was relatively young. I can call him a kind son of hockey."