Bandy game in Russia declared void after teams score 20 own goals
Published time: 27 Feb, 2017 18:08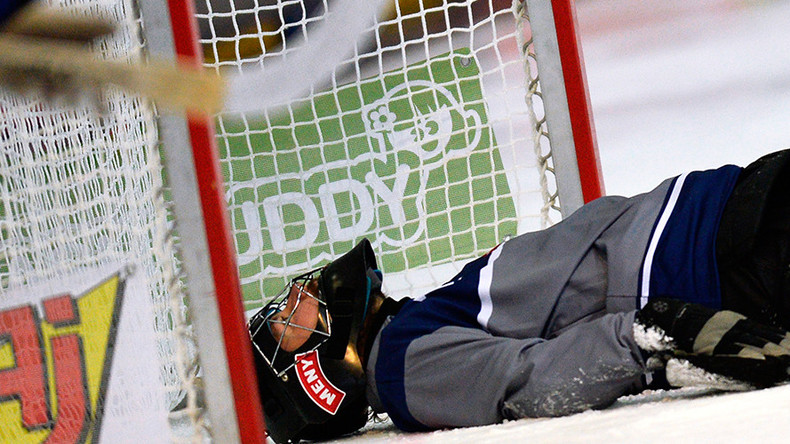 The result of a match between Russian Bandy Super League teams Vodnik and Baikal-Energy has been annulled after the teams scored 11 and 9 own goals respectively.
Bandy, a team winter sport played on ice, doesn't normally attract much attention, but the match sparked controversy when it emerged that all of the 11 goals against Vodnik were scored by the same player, Oleg Pivovarov - a Vodnik player.
All of the 9 goals scored against Baikal-Energy weren't scored by their rival team either. Although the 'own goals' were scored by various players this time.
READ MORE: Most ridiculous own goal ever? Hilarious moment joy turns to despair for Turkish team (VIDEO)
The game, the last one before the start of the playoffs, saw both teams aiming to play a weaker opponent in the elimination stage of the tournament.
While Baikal-Energy simply needed to lose the game, to avoid meeting a stronger team, Vodnik needed to lose by an eight goal deficit. Most of the spectators left the stands after the first half of the game, as from the very beginning both teams showed little desire to score.
Pivovarov scored the game's first goal on 68 minutes, although it came in the wrong net.
"It wasn't started by us, we didn't need that at all," Baikal-Energy coach Evgeny Erakhtin said at the postgame press conference.
"We simply wanted to work on the defensive tactics in this game, but when they (Vodnik) started that circus, and started to score own goals - we replied in the same manner. I don't want to blame (their) players or coaches. I think it was initiated by the management," he added.
"For the first time, I got nothing to say," Vodnik coach Igor Gapanovich commented.
The result has been declared void and the teams will have to face off again at a neutral venue on March 3, following the decision of a Russian Bandy Federation disciplinary committee on Monday.
The second session of the committee on Tuesday will also consider the disciplinary measures that will be handed out to the team's coaches and managers.
Russian Sports Minister Pavel Kolobkov called the incident "a blow to the development of the sport of Russian bandy," TASS reported.
"It's a very unpleasant story, but we hope for an appropriate reaction from the team's management and the federation."