Barcelona players hit with missile by rival fans in La Liga win (VIDEO)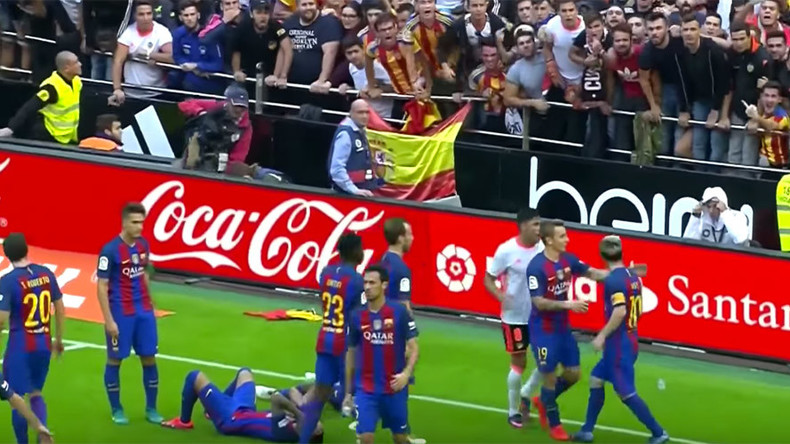 A video recorded at Valencia's Mestalla football stadium captured the moment when seething home fans threw a water bottle at Barcelona strikers Neymar and Luis Suarez.
The incident came shortly after captain Lionel Messi struck home an injury time penalty to give Barcelona a 3-2 away win and put his team top of the Spanish Primera Division, one point ahead of Atletico Madrid.
Seconds after Messi's last gasp winner hit the back of the net, a group of Barcelona players rushed to zealously celebrate with the Argentinian in front of the home fans behind the goal.
The video catches the moment an object – believed to be a water bottle – is thrown into the middle of the huddle of players, striking Uruguayan forward Luis Suárez and Brazilian ace Neymar Jr., causing them both to collapse to the ground.
An emotionally-charged Messi exchanged heated words with the crowd, while other players hurriedly tried to fetch the stricken players out of the area to safety.
READ MORE: Police arrest Neymar lookalike who blackmailed girls with raunchy videos
Manager Luis Enrique, although apoplectic in his reaction to the incident at the time, elected not to comment on the fracas after the game, instead defending his players right to celebrate.
"I'm not here to evaluate what can be done about bottle throwing. We celebrated a goal like you have to celebrate a goal against an opponent who made it so difficult for you" he said.
The hotly contested match was marred by a heavy tackle on Andres Iniesta by Enzo Perez, which ended in the Barcelona midfielder being carried off the pitch on a stretcher with a knee injury.
READ MORE: Messi brother gets community service for illegal gun possession

The see-saw match saw the two teams tied at 2-2 for half an hour of the game, until Messi slid his penalty past Valencia goalkeeper Diego Alves in the 94th minute, adding to his first half goal, which had given his team the lead.