Match for Peace? Security step in as Maradona & Veron clash at Pope's charity game
Argentina legend footballer Diego Maradona took competitiveness to another level after a heated argument with countryman Juan Sebastian Veron during Pope Francis' Match for Peace on Wednesday.
Maradona rowed with Veron as the pair headed for the tunnel at half-time at Rome's Olympic Stadium.
The 55-year-old appeared in good spirits during the early part of the game, but a clash five minutes before the break caused Maradona to lose his cool.
He went chest-to-chest with Veron as they left the pitch, before wagging his finger at the former Manchester United midfielder, saying: "I don't need to talk with you."
Maradona was then held back by a number of security men he tried to continue the argument.
Stefano Mauri, who was part of Maradona's team, said the matter was dealt with at half-time.
Read more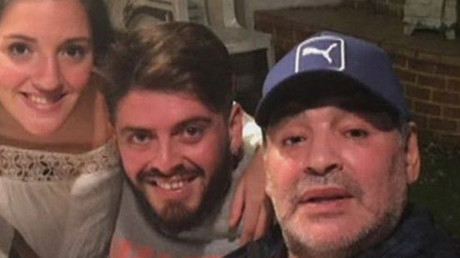 "It was fine in the locker room, they were laughing together during the break," he said.
Maradona returned for the second half, during which he was joined by his son, Diego Maradona Junior.
The Blue Team took the lead after just a minute when Maradona found Mauri, who then played in Antonio Di Natale. The World Cup-winning midfielder also had a hand in the second goal – providing an assist for Francesco Totti.
"I've played with Maradona. I can retire happy now!" laughed the Roma captain.
However, it was the Whites who eventually secured a 4-3 victory courtesy of Fernando Cavenaghi's strike.