US fan wins bet after heckling top European golfer at the Ryder Cup (VIDEO)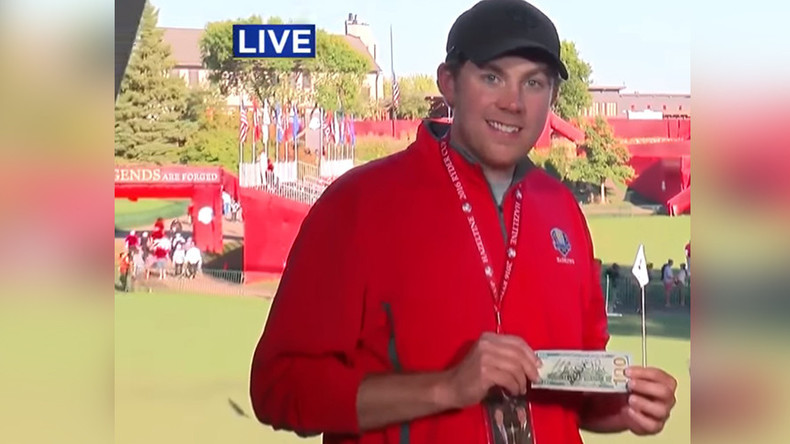 A US golf fan won $100 from Justin Rose after being invited to sink a putt during a practice round at the Ryder Cup.
Rose was playing with Henrik Stenson, Rory McIlroy and Andy Sullivan at Hazeltine National, and the quartet were having problems with the line and pace of the 12-foot putt on the sixth green.
Stenson and McIlroy both made several unsuccessful attempts to make the putt, before an American spectator name David Johnson shouted "I could have made that."
Rose called him out and put a $100 bill next to the ball as an added incentive.
Johnson borrowed a putter, stood over the ball and rattled the putt straight into the hole, sparking wild celebrations from everybody around him.
"I thought it might make it a bit more real for him, but clearly not," Rose said.
"The boys were cupping out, missing it low and this guy just got the ball out and ripped it into the middle. Fair play to him and he celebrated in style.
"It's fun. We are doing what we should be doing out here, having fun. We are preparing, and we are focusing. But you have to enjoy it. That's how you get the most out of it."
Stenson added: "Someone in the crowd yelled, 'I could have made that,' so we let him have a go.
"All credit to him, Rosie put 100 dollars down and the guy drilled it in the center. He would have been chipping if it didn't go in, but all credit to him for making it."