Footballer sent off for applauding self from stands after bagging hat-trick (VIDEO)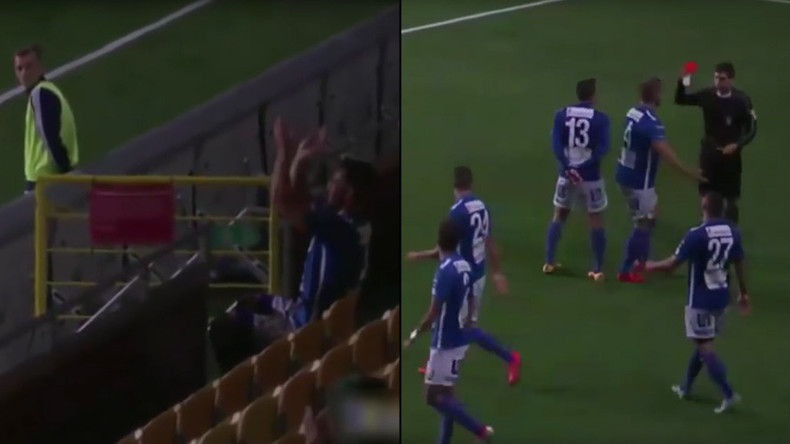 A Swedish footballer who celebrated his first-ever hat-trick a little too much for the referee's liking was sent off after he entered the stands and applauded himself for the effort.
Despite being red-carded for his ebullient reaction, Medi Dresevic has now become an internet star.
The defender notched three goals as part of Norrby IF's comprehensive 6-1 victory over Tvååkers IF in the Swedish third division.
His final goal - a sweet half-volley from 16 meters (18 yards) - was so good, he felt an extra-special celebration was in order.
The defender ran to the sidelines, vaulted the advertising boards, sat down in the front row of mostly empty seats, and applauded enthusiastically.
Referee Alexander Pavlovic - who apparently left his 'sense of humor' in his other pair of shorts - brandished a yellow card in the direction of Dresevic.
The Norrby IF hotshot had clearly been booked earlier in the game and so received his marching orders for what we can only assume is 'ungentlemanly conduct'.
"I wasn't thinking at all, really," admitted Dresevic. "It was a spontaneous reaction. It's not often a defender scores three goals. I didn't know what to do, but then I remembered I had seen on YouTube how a guy celebrated like that. So I ended up in the stands clapping myself."
The video of his antics may have lit up twitter, with thousands of likes and retweets, but he will now miss his team's vital playoff clash due to his suspension.
It's fair to say he would have got a good kicking from one of the Tvååkers IF players had he stayed on the pitch - as anyone who's played five-a-side and wanted to punish the smug skillful guy can relate.