The Brawl in Brooklyn: Can Frampton v Santa Cruz make fight of the Year in NYC?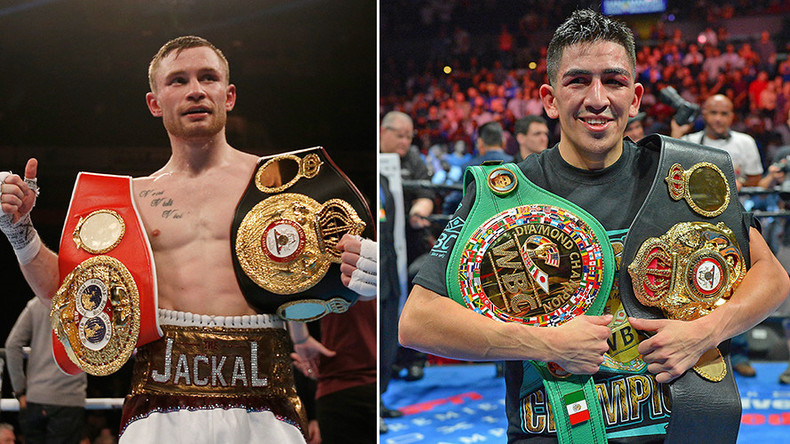 Unbeaten boxers Carl Frampton and Leo Santa Cruz will meet in a superfight showdown for the WBA Super World featherweight title in New York this Saturday Many believe Irish star Frampton and Mexican Santa Cruz will produce a fight of the year contender.
The age-old saying in boxing dictates that "styles make fights," and the matchup between the spindly Santa Cruz and the shorter, counter-punching Frampton is likely to produce blistering action. Add the fact that both men are legitimate world class fighters, boasting perfect professional records, Santa Cruz at 32-0-1 with 18 knockouts, Frampton at 22-0 with 14 knockouts, and you have all the makings of a classic.
At the Barclays Center in Brooklyn, Santa Cruz will be mounting his third defense of the WBA belt that he won last year by decisioning Abner Mares, which made him a three-weight world champion, having previously won world titles at bantamweight (IBF) and super bantamweight (WBC).
Frampton is also a former super-bantamweight world champion, who will be engaging in his first fight at featherweight since unifying the IBF and WBA belts in an all-British super fight against Scott Quigg, and the fighter known as "The Jackal" believes that the move up has suited him well.
"I feel I have more power at featherweight. I will hit him harder than anyone has hit him before. I haven't really been a super-bantam for more than a year and it was killing me making that weight. I am much stronger now," Frampton told the Daily Mail.
The step up to featherweight also carries added significance for Frampton. By challenging for the WBA belt, the Belfast boxer will be aiming to emulate his manager, former professional fighter and fellow countryman Barry McGuigan, who won the belt 21 years ago by defeating Panamanian Eusebio Pedroza in London, England.
McGuigan has already expressed confidence that he will beat Santa Cruz, who has reportedly received tip-offs on the California-based fighter's preparations from a member of his camp.
"We have been told pretty much everything about Leo... We're not going to reveal what we have been told but it is invaluable, as is the sparring. We have been aware from the start that Santa Cruz throws a hundred or more punches a round. That's a very high output, but with the accuracy and power of Carl's counter-punching we believe his style is made for us," McGuigan told reporters at a press conference on Friday.
The rangy Santa Cruz, nicknamed "El Terremoto," which means "the Earthquake" in Spanish, has a distinct 7-inch (18-cm) reach advantage over the shorter Frampton and will be looking to swarm Frampton with his uncannily high punch output. He will be spurred on by the presence of his father, Jose, who will be in his corner for the fight. The elder Santa Cruz was not a certainty to make the fight, due to his ongoing struggle with bone cancer.
"I am so happy my father is here with us. We thought he might not be able to make it, but thank God he is here with us. Not having my dad here in New York with me would have been hard. It actually brought tears to my eyes, but I am very happy that he is here and will be in my corner for my fight," Santa Cruz told ESPN.
Both Santa Cruz and Frampton have bonded through their mutual respect for one another, even posing for pictures with one another and their children at this week's press conferences. Despite Santa Cruz being a US fighter, Frampton has received huge support in New York, which has historic ties with Ireland through its large Irish population.
Come Saturday night, both men will have a chance to add their own piece of history to the city's rich boxing tapestry.