Rio police discover Olympic-branded drugs as crime concerns grow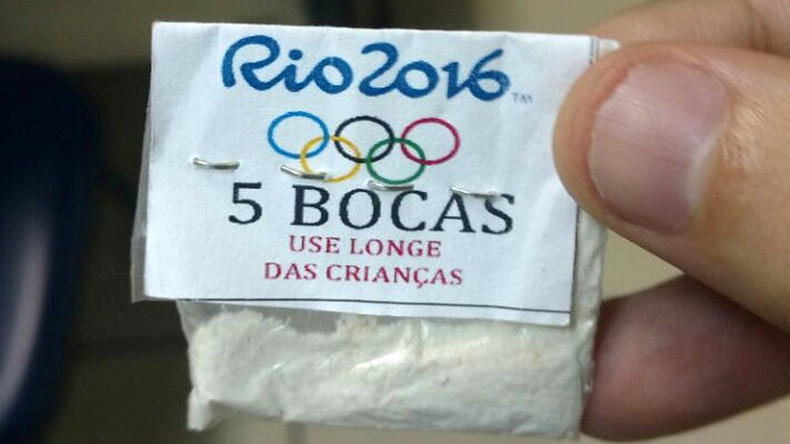 Rio 2016 organizers have been dealt another blow after the city's police discovered bags of cocaine branded with the five-ring Olympic logo.
Police seized 93 doses of powder cocaine, 28 of crack cocaine and several .40 caliber bullets at a house in Rio de Janeiro's Lapa neighborhood on Monday.
The drugs were packaged in small plastic bags marked with the Olympic lettering, a Rio 2016 identification stamp and a warning to "keep away from children."
Brazilian drug dealers regularly use names and images of sports stars and events to sell their products.
The build-up to the Games has been hit by a series of setbacks, with concerns about the infrastructure, economic issues, political scandals and the Zika virus amongst the problems that organizers have had to deal with.
Earlier this week, the Australian team refused to move into the Olympic Village after complaining about unsafe living conditions for its athletes.
Around 1.5 million visitors are expected to attend the Games, which start on August 5.
Organizers have responded to security fears by increasing the number of soldiers and police patrolling the event to nearly 90,000.
Homicides in the city were up 15 percent in the first four months of 2016, while there has recently been an increase in high-profile kidnappings.
Last Sunday, a New Zealand jiu-jitsu athlete claimed he was taken by men in police uniforms and forced to withdraw money from two ATMs.
What did you guys get up to yesterday?
I got kidnapped. Go Olympics!#Rio2016

— Jason Lee (@jasonleejitsu) July 24, 2016
Formula One boss Bernie Ecclestone's mother-in-law was kidnapped on Tuesday, with criminals demanding a $36.5 million ransom for her return.
Aparecida Schunk was snatched by an armed gang posing as delivery drivers.
Neighbors said the men, who were carrying a fake parcel, tricked their way into the 67-year-old's gated property and threatened her with a knife before bundling her into her own car and fleeing.
A Brazilian police official confirmed the force is investigating Schunk's disappearance, but also said that investigators are looking into other unspecified possibilities in addition to kidnapping.