'Manchester, welcome to Zlatan': United welcomes Ibrahimovic with huge billboard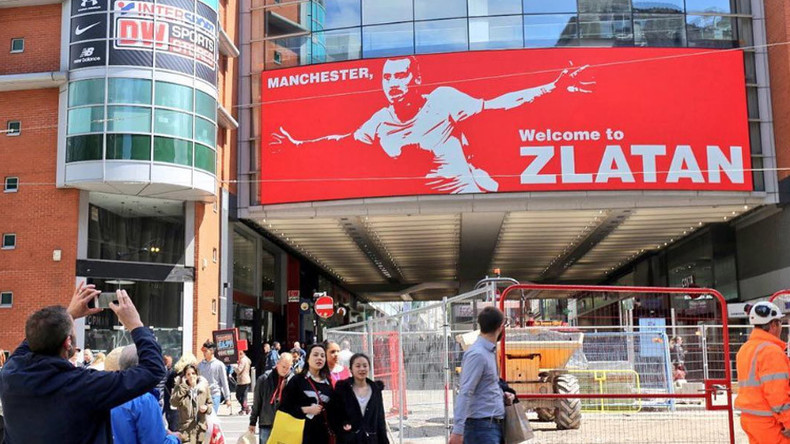 New Manchester United star striker Zlatan Ibrahimovic has been welcomed to the city with a giant poster provocatively hung just a few steps away from the official fan store of rivals Manchester City.
The poster displayed at the Arndale Shopping Centre greets the star Swede in United's signature devil red, and is just a stone's throw away from Manchester City's club shop.
Ibrahimovic took to Instagram yesterday to reveal he was coming to Manchester United, before the club could make an official statement.
The poster welcoming him to Manchester is rumored to be a ploy by Adidas, which sponsors Manchester United.
During a training session at Euro 2016 – where Ibrahimovic was captaining the Swedish national team – he was seen in Adidas boots before switching back to his current sponsor Nike for Sweden's game against Italy. Adidas owns a store next to where the current sign is fixed.
The poster of Ibrahimovic mimics a previous display by Manchester City in 2009 that displayed the message "Welcome to Manchester" with a blue image of Carlos Tevez when they signed him ahead of their cross-city rivals – even though Tevez had spent the best part of two years playing under a loan agreement at United.
The club officially announced the signing on Friday evening.
"I am absolutely delighted to be joining Manchester United and am looking forward to playing in the Premier League," said Ibrahimovic.
Ibrahimovic moved to the Old Trafford club on a free transfer from French side Paris Saint-Germain, where his contract has expired. The last time he played was in Euro 2016 in June representing Sweden, which failed to progress beyond the group stage of the competition.
The 34-year-old announced his retirement from international football following the competition.
Rumours of Ibrahimovic joining Manchester United had been rife since Jose Mourinho was announced as the club's new manager. Ibrahimovic previously played under Mourinho when he was manager at Inter Milan in 2008.