Voynov ruled out of World Cup of Hockey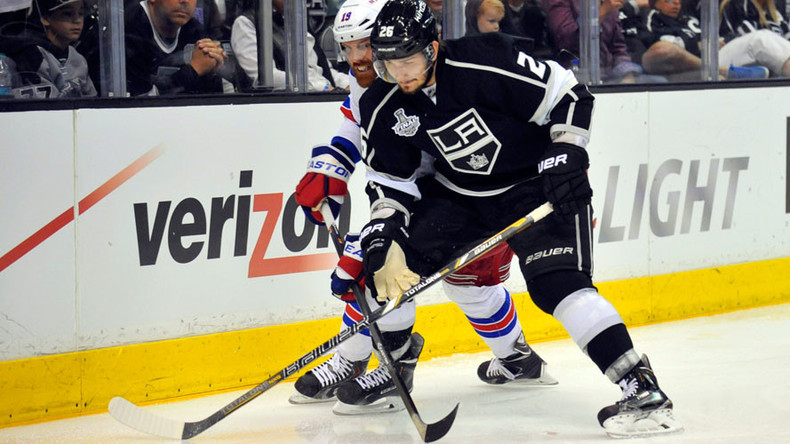 Two-time Stanley Cup winner Slava Voynov will not be allowed to play at the upcoming World Cup of Hockey due to his indefinite suspension by the NHL, received after being arrested on domestic violence charges in 2014.
The SKA St. Petersburg blueliner was named in the Team Russia squad last Friday, but NHL commissioner Gary Bettman has now stated the player will not take part in September's competition in Canada.
Bettman says Russia was told Voynov isn't eligible to play in World Cup. But where it goes from there, we shall see...

— Pierre LeBrun (@Real_ESPNLeBrun) 30 May 2016
Ex-Los Angeles star Voynov was suspended indefinitely by the NHL in 2014 after being arrested on domestic violence charges.
He initially pleaded not guilty to the charges, but eventually entered a no contest plea to a reduced misdemeanor charge in July 2015.
Voynov was sentenced to 90 days in jail, three years of probation and ordered to attend counseling. He was released on September 3 and departed the US for the KHL.
During his annual state of the union address, which usually takes place prior to the opening game of the Stanley Cup final, Bettman confirmed Voynov would not be allowed to play in September's tournament.
"There has been no change in his status," he said. "He's been suspended from the league. The Russian Federation was told that he was not eligible to play in the World Cup."
READ MORE: Putin makes surprise appearance to congratulate Canada after World Hockey final in Moscow (VIDEO)
Voynov played 23 times last season as SKA finished sixth in the regular season standings.
He played a further 15 games in the Gagarin Cup end-of-season playoffs, helping the team to the Western Conference final where they were beaten by CSKA Moscow.
Russia World Cup of Hockey squad:
Forwards
Artem Anisimov - Chicago Blackhawks
Evgeny Dadonov - SKA St Petersburg
Pavel Datsyuk - Detroit Red Wings
Nikita Kucherov - Tampa Bay Lightning
Nikolay Kulemin - New York Islanders
Evgeny Kuznetsov - Washington Capitals
Evgeni Malkin - Pittsburgh Penguins
Vladislav Namestnikov - Tampa Bay Lightning
Alex Ovechkin - Washington Capitals
Artemi Panarin - Chicago Blackhawks
Vadim Shipachyov - SKA Saint Petersburgh (KHL)
Ivan Telegin - CSKA Moscow (KHL)
Vladimir Tarasenko - St. Louis Blues
Defensemen
Alexei Emelin - Montreal Canadiens
Dmitry Kulikov - Florida Panthers
Alexey Marchenko - Detroit Red Wings
Andrei Markov - Montreal Canadiens
Dmitry Orlov - Washington Capitals
Nikita Zaitsev - Toronto Maple Leafs
Goalies
Sergei Bobrovsky - Columbus Blue Jackets
Semyon Varlamov - Colorado Avalanche
Andrei Vasilevskiy - Tampa Bay Lightning