Ouch! Oklahoma Thunder's Steven Adams hit in the groin… again (VIDEO)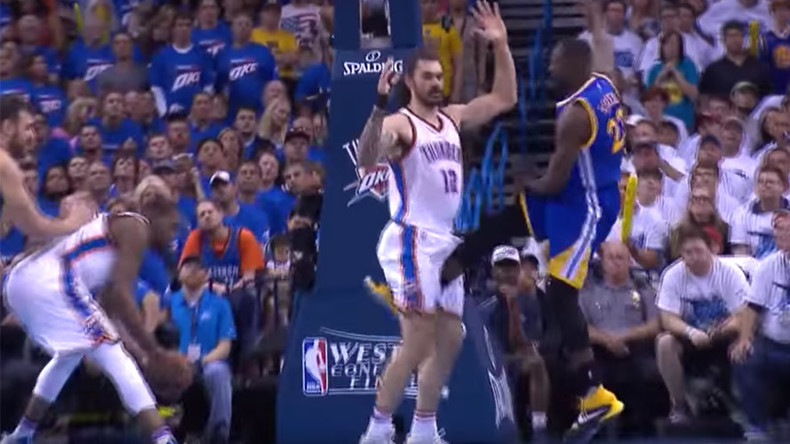 Oklahoma City Thunder center Steve Adams has not had the best week of his NBA basketball career.
Just six days after being manhandled to the floor by Festus Ezeli in Game 1 of the Thunder's Western Conference playoff finals against the Golden State Warriors, and four days after receiving a knee the groin by Draymond Green in Game 2, Adams was clocked yet again in the nether region by Green during Sunday's Game 3.
The Warriors power forward went up for a shot in the second quarter and as seen in the video, Green was up calling for a shooting foul and unaware of his follow-through, with his leg catching Adams square in the groin.
Golden State was behind 50-42 after the two players collided in the second term, with the Thunder going on to win 133-105.
Green didn't have his best game in Golden State colors, with the league's Defensive Player of the Year runner-up missing seven of eight shots in that first half, while Oklahoma City's Adams contributed seven points and five rebounds to go along with a block.
As mentioned, it has not been the greatest week for Steve Adams who was also criticised for his post-match comments in the aftermath of Game 1.
Adams referred to Golden State players as "quick little monkeys" and was immediately slammed, later apologizing for his "poor choice of words."
READ MORE: 'Quick little monkeys': NBA's Steven Adams apologizes for remarks about Golden State Warriors
"I wasn't thinking straight. I didn't know it was going to upset anyone," he told USA Today.
"It's just different, mate. Different words, different expressions, and stuff like that.
"But they obviously can be taken differently, depending on which country you're in. I'm assimilating, mate, still trying to figure out the boundaries. But I definitely overstepped them tonight."