Fans' fighting mars Liverpool v Sevilla Europa League final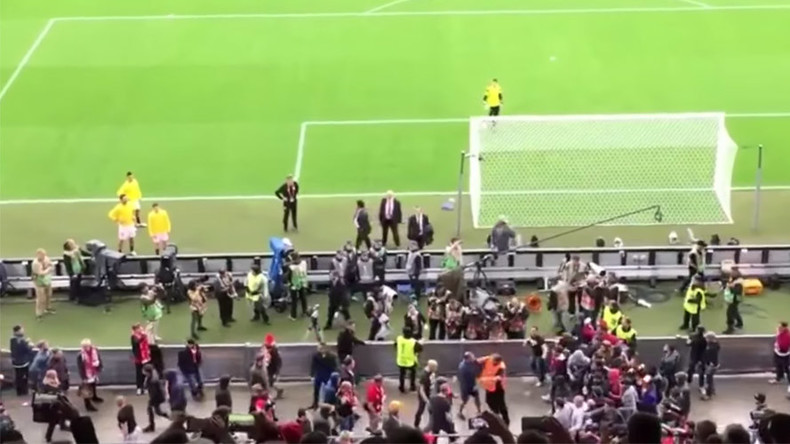 The final of the Europa League was marred by fan violence, with a fight breaking out behind one of the goals before the match between Liverpool and Sevilla on Wednesday night.
The game was played at St Jakob's Park in Basel, Switzerland, with the stadium's modest 35,000 capacity not meeting the supporters' demand for tickets.
With Sevilla fans only taking 7,000 of their 9,000 allocation, the remaining 2,000 tickets were given back to UEFA. Liverpool supporters were offered 1,600 additional tickets and the remaining 400 were supposedly kept for fan-segregation – however, that did not appear to be enough.
Fans of the two sides were unsegregated behind one of the goals, and a fracas broke out before the game kicked off.
As can be seen in the video below, a small section of the fans fought each other and as a result stewards and riot police had to separate the aggressors.
The skirmishes were widely condemned by the remainder of the crowd, who booed and whistled as the fans threw punches.
Sevilla fans booed Liverpool's popular song 'You'll Never Walk Alone,' which is believed to have played a part in the confrontation starting.
READ MORE: 3 injured as Turkish football fans set fire to own stadium after bitter home loss (VIDEO)
Liverpool fans clearly outnumbered their Spanish counterparts, taking almost three-quarters of the tickets available.
Word from our man in the stadium is that the fighting broke out when Sevilla fans started booing 'You'll Never Walk Alone'..

— AS English (@English_AS) May 18, 2016
However, the fact that UEFA opted to play the showcase in a stadium with a modest 35,000 capacity will be highlighted as a reason for the fan violence, given that supporters became integrated as a result.
Sevilla claimed their third consecutive Europa League crown and fifth Europa League title in 11 years, winning 3-1 as captain Coke scored a brace to break Liverpool hearts.