'Absolute mayhem': Man Utd team bus 'smashed up' ahead of West Ham clash (PHOTOS, VIDEOS)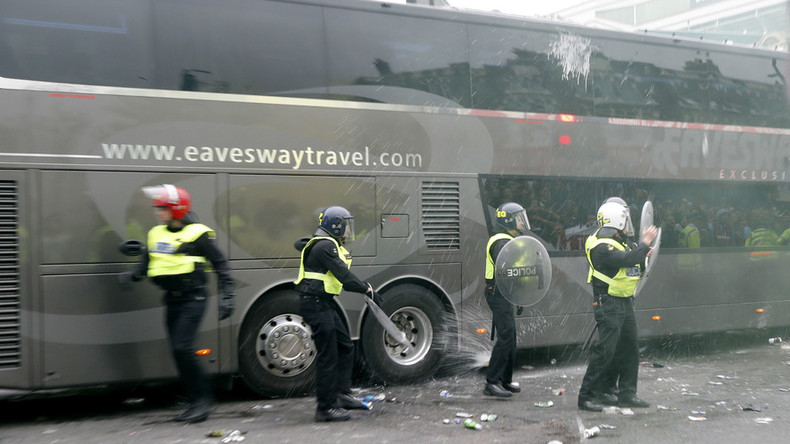 Prior to West Ham United's final clash at Upton Park, the bus carrying their opponents, Manchester United, was attacked and thrashed by rival fans who threw numerous bottles, eggs and flares at it.
The kick-off for Tuesday night's encounter was delayed by 45 minutes after Man United's bus was delayed by rowdy fans on its journey to the grounds, in its last time being used by the Hammers after 122 years of service.
Rowdy football fans attempted to block the bus by throwing numerous bottles, cans, flares and eggs at the bus, footage of which was posted on social media.
Police were seen trying to secure a passage for the bus and keep the crowd under control, with one officer and one pedestrian reported to have been injured in the incident.
Manchester United's winger Jesse Lingard even posted a video from inside the bus which showed some of the players huddled on the ground while the windows were left covered in debris.
"It wasn't nice," Man Utd's captain Wayne Rooney told The Independent before the game. "The coach got smashed up, but we're here now, so have to prepare for the game and go out and do our job"
"The images tell everything," said Man Utd manager Louis Van Gaal. "The police were taping. It is also a lot of emotions for people but for us it is the second time in London we have to start later. It is better than last time because we have received our preparation time."
The FA have also released a statement in which they describe the course of events as "unsavoury incidents."
Whether it was a direct result of the rowdiness before the match or just not to be, Man Utd lost the encounter 3-2.