Snake in the grass? Donald Trump branded golf cheat by Oscar De La Hoya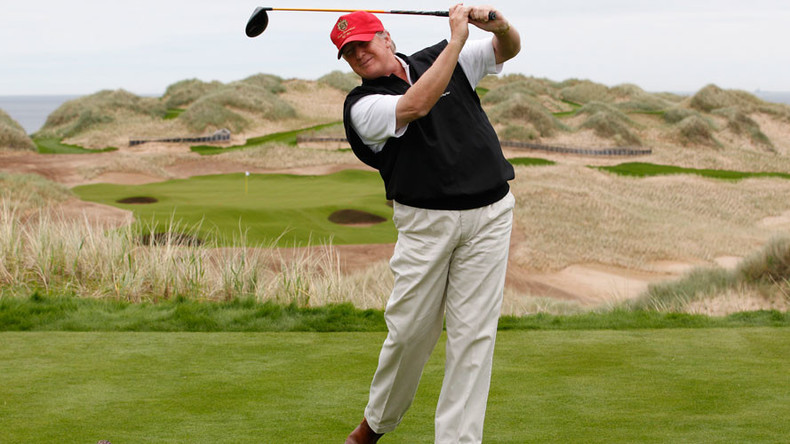 Donald Trump is making few friends in his bid to become US president, and it appears he's intent on becoming unpopular in sporting circles too.
Trump's views during many of his campaign speeches have caused controversy, and his behavior on the golf course also continues to be criticized.
The legendary boxer Oscar De La Hoya told the Associated Press this week that Trump is happy to break the rules in 'the gentleman's game'.
"Donald, what he does is he tees off first so we go off to our balls, and what do we see but Donald Trump right in the middle of the fairway," De La Hoya said. "He said, 'Hey look, I found my first ball.'"
De La Hoya said Trump hit into some bushes on the next hole and again went ahead of the other players in his cart.
When the rest of the group got to the green, Trump's ball was a meter from the hole.
"And by the way, I'm picking it up," De La Hoya quoted Trump as saying. "It's a gimme," referring to the golfing term which means a short putt can count automatically without actually being played.
Trump denied De La Hoya's claims, telling the AP he respects the game too much to cheat and is good enough to have won a number of club championships.
"Not only didn't I cheat, I didn't play with him," Trump said. "I have never played a round of golf with this guy.
"He's absolutely lying. Golf is an important thing and I felt I had to say something."
Trump's antics on the golf course have long been questioned in celebrity circles too, with top actor Samuel L. Jackson calling him a cheat during an interview in January.
Fellow actor Anthony Anderson supported Jackson's theory, although he stressed Trump didn't do his own dirty work.
"Trump is a great golfer. I'm not going to say Trump cheats," said Anderson. "His caddy cheats for him."
Read more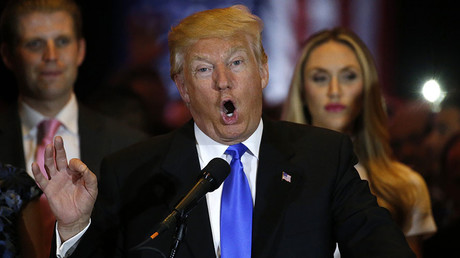 Anderson recalls that on one hole Trump had hooked a shot further to the left than he had, but by the time they reached their balls Trump's was mysteriously in the middle of the fairway.
The Washington Post's Ben Terris investigated accusations of cheating against Trump last year and was told by caddy Jonathan Carr that while the man himself was never seen to bend the rules, his caddies almost certainly did.
Carr, who caddied at the Trump National Golf Club in 2007/08, said: "The caddies would say, 'If I get on his bag, I'm going to make sure he always has a good lie.'"
Sports writer Rick Reilly, rock star Alice Cooper and Trump's butler, Anthony Senecal, have all previously accused the presumptive Republican nominee of cheating.
A recent New York Times profile of Senecal included details of an exchange between the pair where Trump asked his butler during a news conference: "Do I hit it long? Is Trump strong?"
Senecal recalled times they would hit balls together from the Mar-a-Lago property into the Intracoastal Waterway, and how he massaged Trump's ego by lying about the distance he had hit the ball.
"Tony, how far is that?" Trump would ask.
"It's like 275 yards," Senecal would reply, although the actual distance was 225 yards.
READ MORE: Trump can't get no satisfaction: Rolling Stones tell 'The Donald' to stop using their music
While there appears to be a common theme which points towards Trump being a golfing cheat, the timing of De La Hoya's comments suggest he may actually have had an ulterior motive in making them.
With his Golden Boy promotion company set to stage the Saul 'Canelo' Alvarez versus Amir Khan fight in Las Vegas this weekend, De La Hoya had invited Trump to the bout – but it seems the presidential hopeful will be elsewhere.
Many reports that I will be attending the Alvarez/Khan fight this weekend in Vegas. Totally untrue! Unfortunately I have other plans.

— Donald J. Trump (@realDonaldTrump) May 5, 2016
Whether Trump bends the rules on the golf course is a question for his own conscience, although many golf fans may find it difficult to give their vote to someone they believe is capable of cheating. Others will say it's simply par for the course for politicians these days.