'A real disgrace': Critics slam British govt over West Ham's Olympic Stadium deal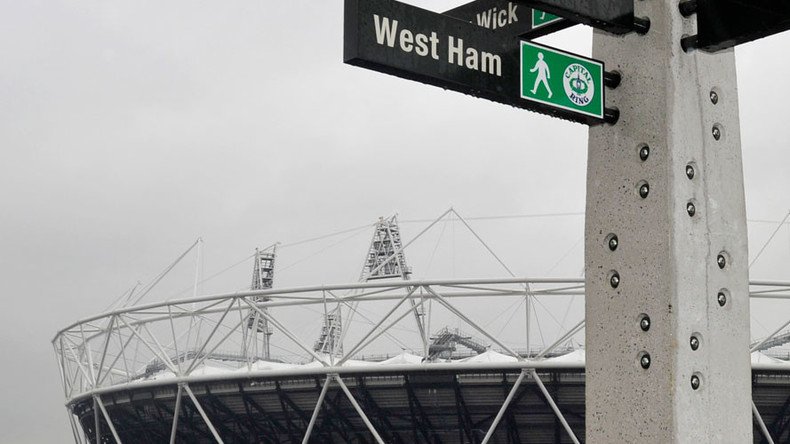 West Ham United's move to the Olympic Stadium in London has caused a major row in Britain, with the Premier League club set to pay just $3.55 million per year to occupy the facility, with part of the deal funded by British taxpayers.
The London Legacy Development Corporation (LLDC) has signed off on a deal that will see the Hammers move into their 60,000 capacity home at the start of next season.
The club has agreed a 99-year lease at the Olympic Stadium, which is being converted into a Premier League venue at a cost of around $386 million – with West Ham contributing just $21.3 million towards the costs.
The LLDC must cover stadium expenditure such as pitch maintenance, undersoil heating, security, cleaning and a variety of other running costs.
The deal does however include performance-related payments, with a top-five finish in the league costing the Hammers a further $1.4 million. Success in Europe would also generate further revenue for the LLDC.
West Ham's annual payment to the LLDC amounts to just 2 percent of the annual TV income they can expect from being in the Premier League, but the club says the deal benefits all parties.
"While someone renting the stadium for 25 days a year cannot be responsible for 365 days' running costs, going by our performances this season, we hope to deliver additional revenue to the stadium via extended cup runs and big European nights," a club statement said.
"This will secure the international exposure and additional usage and revenue that may now be more challenging for the stadium owners to find elsewhere as a result of this ruling."
While West Ham are clearly delighted with their new stadium, critics have slammed the deal, with many questioning whether it is right that the club's owners should profit from the British taxpayer if they decide to sell the club.
If David Sullivan and David Gold sold the club in the next 10 years for more than $177 million, the LLDC would get just $17 million if the sale price was $355 million.
Respected journalist Mihir Bose says the deal is a public scandal.
"That British politicians make such deals is the real disgrace," he said. "Politicians pontificate on how they are always looking for the common good.
"But where is the common good in this West Ham deal? Other clubs have to raise millions to build a new stadium, West Ham are virtually gifted one yet no one is consulted on the deal.
"In America when such deals are done there is a city-wide referendum. Should we not have had one before the West Ham deal was done?"
Barry Hearn, the chairman of local side Leyton Orient, has been a long-time critic of West Ham's move to the stadium, labeling it "outrageous for the taxpayer," but Sullivan has defended his club.
"We've done a great job for West Ham but believe you me, we've done a great job for the nation too," he told talkSPORT Radio.
"We've done great job for the country, we've done great for jobs in Newham, for tourism, for business for Westfield – this is a win-win for everybody.
"We, along with the operators and Newham council, have saved that wonderful stadium. Instead of being like the eyesores and white elephants in Beijing and Greece, it will be there for 100 years.
"Athletics will take place there, they've got AC/DC playing there in June, there'll be pop concerts, world championship boxing. All that can happen because they have us as an anchor tenant.
"The deal we've done for our stadium very much mirrors the deal Manchester City did for the Etihad. It's a very similar deal and that's what it's based on.
"I think there is jealousy for what we have done. It's jealousy and envy, which is a British trait. They love to pull people down. They love to moan.
"We're a high-profile London club – we've got a fantastic stadium and we now may threaten some of the big clubs because we've got a big capacity.
"Barry Hearn has been very vociferous. If you take him out of the equation, there wasn't a lot of moaning about it.
"It won't harm Leyton Orient – it won't hurt anyone. This is a good deal for everybody. From the bottom of my heart I really believe that."
West Ham's good fortune in securing the Olympic Stadium could see them challenge the established big clubs in the Premier League, but Bose believes the British government has questions to answer.
"Look at the political humbug," he said. "British politicians have gone on about the FIFA scandal.
"Yes, the scandal is dreadful and we do need a revolution on how FIFA and world football is run. But the FIFA scandal involves less money, around $250 million, compared to what has been spent on renovating the stadium so that West Ham can hire it.
"Is that not a scandal? And if it is not, why? And if it is, as I think it is, what are we going to do about it? Will we hold [London Mayor] Boris Johnson accountable? Don't hold your breath."
You can share this story on social media: