Rocking the world: Football fans' goal celebration causes 'earthquake'
Published time: 11 Mar, 2016 12:34
Edited time: 11 Mar, 2016 12:37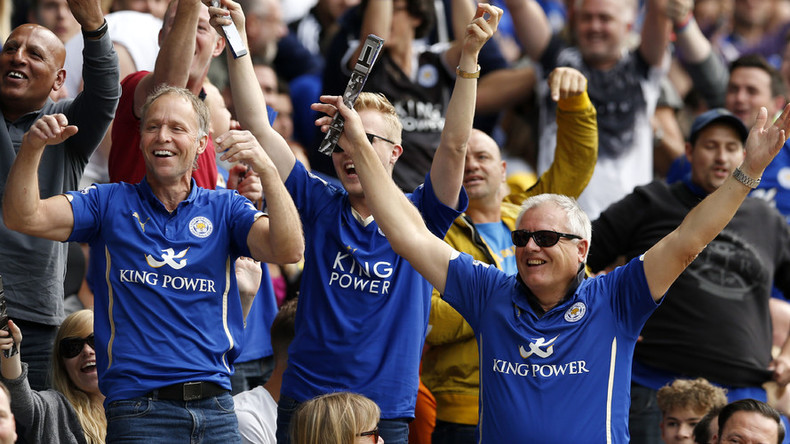 Leicester City's rise to the top of the Premier League has caused shockwaves in England this season, and there's now scientific proof to back it up after a seismic goal celebration from their fans.
A team from the University of Leicester installed a seismometer near the club's King Power stadium, and the device reported a mini earthquake of 0.3 magnitude made by Foxes fans when Leonardo Ulloa scored a last-minute winner against Norwich in February.
The geology students, working on a project with the British Geological Survey (BGS), placed the equipment at a local school 500 meters away from the ground.
One of the students, Richard Hoyle, commented: "A few days after we installed the equipment at the school and were analysing data collected, we noticed large peaks on the seismogram during football matches being held in the stadium nearby."
"A closer look showed us there was a strong correlation between the exact time Leicester scored at home and the occurrence of the large seismic signals.
"We concluded our equipment was measuring small earthquakes produced by the sudden energy release by the cheering Leicester fans celebrating at the moment a goal was scored."
Paul Denton, a seismologist from the BGS, said the equipment was actually closer to Leicester Tigers' rugby ground and they were expecting stronger signals from there but couldn't find anything.
"It says something about the nature of football, it's so tense and then we get four or five seconds of unexpected magic," said Denton.
"In Leicester's case it was in the 89th minute, the game was practically over.
"It wasn't just a case of cheering or clapping, it was 30,000 people standing up at the same time - an awful amount of energy."
The equipment works alongside a similar system at the university's department of geology building and another recently installed in the New Walk Museum in Leicester.
The Foxes have taken the Premier League by storm this season, leading the way by five points with just nine games to play.
READ MORE: 5000-1 Leicester in position to shock the world, as Arsenal, Tottenham and United stumble

The students have continued to monitor City's home games to see if they can beat their own record, and during last week's match against West Bromwich Albion a 0.1 quake was registered when Danny Drinkwater equalised.
They have dubbed the project 'Vardy Quake' after star forward Jamie Vardy and plan to provide updates via the @VardyQuake Twitter account.
Mr Hoyle said: "Besides naturally occurring earthquakes, we are now curious to discover which Leicester City footballer will generate the biggest seismic signal. Our money is on Vardy."